ERAGONmodular Laparoscopic Instrument System
The modular solution for laparoscopic specialties.
This laparoscopic instrument system sets the benchmark for quality and versatility for multidisciplinary use. ERAGONmodular can assist in a wide range of surgical applications, providing precision, reliability, and intuitive handling. It has countless potential interdisciplinary functions.

The sheaths are protected with a high-quality layer of Halar® insulation, which is less likely to sustain damage compared to shrink-tubing insulation. This coating provides a reliable bond with the metal sheath, as well as enhanced protection when using monopolar HF current. The interior positioning of the locking mechanism for the sheath and handle safeguard against inadvertent mechanical injury to surrounding tissue. The simple "click-it" lock technology enables easy assembly and disassembly.

There are a variety of options for creating the ideal laparoscopic instrument set, customizing the tray to fit your preferences, reducing costs, and minimizing the instrumentation needed.
ERAGONmodular Laparoscopic Instrument System
For Any Surgeon
ERAGONmodular mini

The slim, 3.5 mm ERAGONmodular mini is the newest generation of the line. The slender diameter of this three-part modular instrument reduces surgical trauma at port sites, making it ideal for mini-laparoscopy. It is fully compatible with both the ERAGONmodular and the ERAGONaxial handles and is available in two working lengths. ERAGONmodular mini meets the highest standards for ergonomics, durability, and versatility.
ERAGONaxial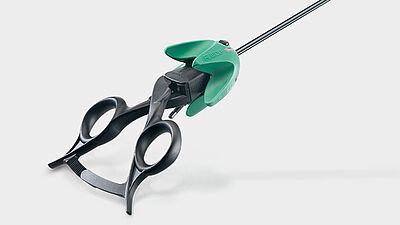 When ergonomic design and intuition are in perfect harmony.
ERAGONaxial handles offer a comfortable and user-friendly operational platform, precision handling, and a choice of four models. Each one has a variety of features, such as a ratchet lock and HF connector. The angled contours provide a relaxed working position to alleviate pressure points and reduce hand fatigue. An optional silicone attachment extends the rotation knob toward you, allowing it to fit all hand sizes. Fully compatible with the entire ERAGONmodular series, these axial handles combine the benefits of ergonomics, balance, maneuverability, and secure locking functionality.
ERAGONbipolar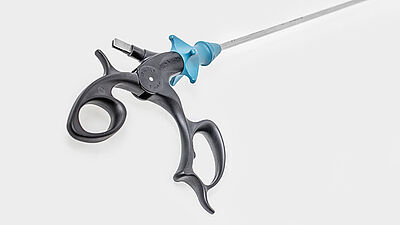 An extension of the ERAGONmodular family, the ERAGONbipolar instrument system is ergonomic, safe, and easy-to-use. These modular instruments offer a variety of jaw patterns, making them ideal for a range of multidisciplinary procedures. The ERAGONbipolar sheath tube provides a protected environment for the conduction of the current, eliminating the need for external insulation. Coagulation only takes place where it is required, ultimately increasing the safety of laparoscopic procedures.

Ergonomic handle helps to ease hand fatigue and enhances surgeon comfort.
Proximal end of jaws is positioned within the sheath to prevent tissue damage from the joint mechanism.
"Click-it" lock technology enables quick and easy assembly and disassembly.
Validated to be sterilized while assembled, reducing the workload and increasing efficiency in the OR.
Easily customized to fit your personal preferences.
"Click-it" lock technology simplifies assembly and disassembly.
Three-part design enables thorough reprocessing.
Modular assembly improves instrument management, avoiding down-time waiting for repairs.
Other products you may be interested in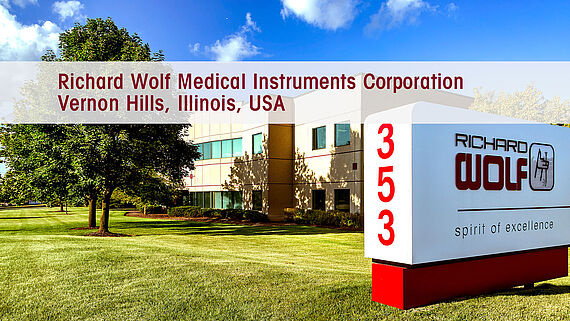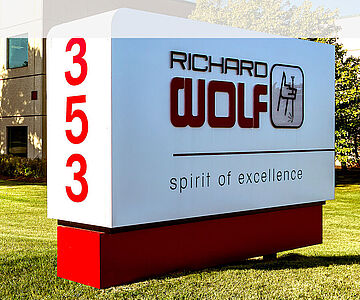 Questions?
We are ready to help!
Richard Wolf Medical Instruments Corporation