Championing Endoscopic Medicine for 50 Years
Making better patient outcomes a reality.
The Richard and Annemarie Wolf Foundation has been dedicated to the advancement of endoscopic medicine since it was established in 1968. Recently celebrating its 50th anniversary, the foundation is a investment trust that holds the shares of Richard Wolf GmbH and its 18 subsidiaries around the globe.
Committed to furthering the science of endoscopy, the foundation's board of directors provide strategic direction for the Richard Wolf Group to maintain its global leadership role in minimally invasive surgical instruments. In addition, the board awards grants focused on the promotion and innovation of endoscopy and other medical sciences. With this dedication and focus, the Richard and Annemarie Wolf Foundation has been making significant contributions to improving patient outcomes throughout the world since its inception five decades ago.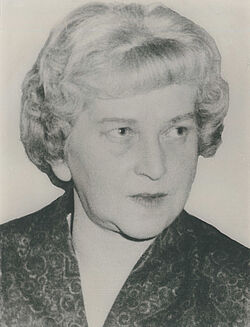 *03.05.1901 † 03.01.1969
The foundation is named after Mr. Richard Wolf and Mrs. Annemarie Wolf whom, during their lifetime, were each sole shareholders of Richard Wolf GmbH, which was founded in 1947. After the death of company founder Richard Wolf, his entrepreneurial wife Annemarie Wolf owned all of the shares in the business. Following a social, and in particular, socio-political vision, Mrs. Annemarie Wolf founded a charitable foundation in 1968.
*19.12.1906 † 26.04.1958
In his will, the founder made the foundation the sole heir of his business assets. Since the death of Annmarie Wolf in 1969, the Richard and Annemarie Wolf Foundation is the sole shareholder of Richard Wolf GmbH. The structure of the foundation remains unchanged under company law and celebrated ist 50th anniversary in 2019. Since then, profits have been paid exclusively to the charitable foundation.
Role of the Foundation Board
The foundation is charitable and the purpose of the foundation is the promotion of medical science, in particular those specialist areas that work with endoscopes. In addition, the foundation exercises statutory shareholder rights as they are subject to the stipulation of the foundation as the sole shareholder. The Board of the Foundation is therefore responsible for auditing, monitoring and advising the management. The constructive consultancy tasks are governed by the personnel-oriented and socially acceptable implementation of a qualified growth trajectory for the Richard Wolf Group of companies.
The five current members of the foundation board are predominantly committed to preserving the assets of the foundation. By complying with this obligation, the foundation board takes responsibility of the founder's intentions in terms of how it is comprised.
The Board of the Foundation is solely responsible for managing the assets, in addition, responsible for the strategic direction of the RICHARD WOLF Group as a globally active organization.
Members of the Foundation Board
Left to right: Dr. Augustin Siegel, Siegfried Karst, Ingeborg Burkhard, Volker Kälberer, and Dr.-Ing. Paul Seiler
Questions? I am ready to help!
Anke Müller
Assistance of the foundation