Flexible sensor bronchoscope
The area of pneumology is currently inconceivable without flexible bronchoscopes. Today flexible sensor bronchoscopes have established themselves as the "state of the art".
Richard Wolf has decades of experience in flexible endoscopy. This is one of the reasons why the latest sensor bronchoscopes benefit not only from the latest technical features, but also from an award-winning ergonomic design.
A highly innovative image sensor combined with an LED illumination system and the ENDOCAM Flex HD camera controller enables an image quality that sets new standards.
Especially remarkable is the fact, that in addition to perfect functionality, special attention was paid to cost efficiency and easy integration when designing this complete system. This means that the extremely compact camera controller can also be placed in extremely confined working areas.
Depending on your personal preference, they are optimally equipped with the available variants for diagnostic and therapeutic requirements, and with the "Slim Line model" even far into the peripheral areas.
Find more information in the following overview.
Diagnostic model for ENDOCAM Flex HD
Sheath: Ø 5.2 mm
Distal tip: Ø 5.2 mm atraumatic plastic tip
Working channel: Ø 2.2 mm
Articulation: 180° upward, 140° downward
Working length: 600 mm
Angle of view: 110°
Illumination: two distal integrated LEDs
Handle: ergonomic design with axial cable exit
Positioning of the working channel and irrigation channel relative to the image: at 3 o'clock
Endoimage: octagonal, automatic white balance and brightness control, focusing is not necessary
Cable length: 2.5 m
Therapeutic model for ENDOCAM Flex HD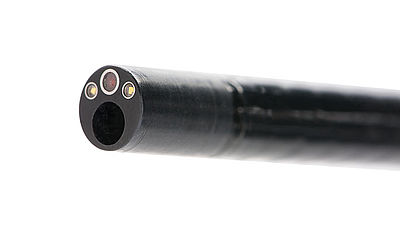 Sheath: Ø 6.2 mm
Distal tip: Ø 6.2 mm atraumatic plastic tip
Working channel: Ø 3.0 mm
Articulation: 180° upward, 140° downward
Working length: 600 mm
Angle of view: 110°
Illumination: two distal integrated LEDs
Handle: ergonomic design with axial cable exit
Positioning of the working channel and irrigation channel relative to the image: at 3 o'clock
Endoimage: octagonal, automatic white balance and brightness control, focusing is not necessary
Slim line model for ENDOCAM Flex HD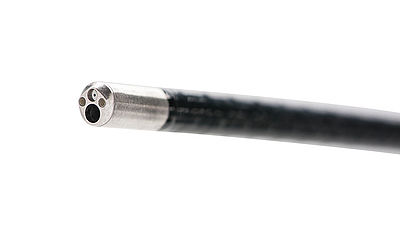 Sheath: Ø 2.9 mm
Distal tip: Ø 2.2 mm atraumatic stainless steel tip
Working channel: Ø 1.3 mm
Deflection: 270° upward, 270° downward
Working length: 600 mm
Angle of view: 90°
Illumination: LED integrated in the handle
Handle: ergonomic design with axial cable exit
Positioning of the working channel and irrigation channel relative to the image: at 9 o'clock
Endoimage: quadratic, 1.5x zoom, detail enhancement, automatic white balance and brightness control, no focusing necessary
Cable length: 2.5 m
Other products you may be interested in