Flexible sensor bronchoscope
for ENDOCAM Logic und ENDOCAM Flex HD
The area of pneumology is currently inconceivable without flexible bronchoscopes, which have now become firmly established as part of the state of the art.
Richard Wolf has decades of experience in flexible endoscopy. This is one of the reasons why, with the latest sensor bronchoscopes, you can benefit not only from the latest technical features, but also from a particularly ergonomic design.
What's more, cost-effectiveness and a space-saving, compact design for the Camera Controller were key priorities when it came to creating the ENDOCAM Flex HD bronchoscope range.
Depending on your specific requirements, the available variants ensure that you are perfectly equipped for diagnostic and therapeutic applications, with the "Slim Line model" suitable for reaching even far into the peripheral areas of the lungs.
With the launch of the new "SLIM" sensor bronchoscope, the first model compatible with the ENDOCAM Logic camera platform (HD and 4K) has now been added to the flexible sensor bronchoscope family.
This means that the "SLIM" bronchoscope benefits from the extended functionality of the ENDOCAM Logic camera platform, including the save function for images and video sequences, as well as the option to connect to the core nova OR integration.
Additional information on the individual models is given in the following overview.
Slim model for ENDOCAM Logic
Sheath: Ø 3.3 mm
Distal tip: Ø 3.3 mm, beveled
Working channel: Ø 1.5 mm
Articulation: 150° upward and downward
Working length: 680 mm
Illumination via two LEDs, no separate lightsource necessary
Image sensor integrated in instrument tip – direct image capture without transmission losses
Two programmable camera head buttons
Special Imaging Mode (SIM) compatible
Ergonomic handle
Axial cable outlet
Compatible with ENDOCAM Logic 4K & ENDOCAM Logic HD
Diagnostic model for ENDOCAM Flex HD
Sheath: Ø 5.2 mm
Distal tip: Ø 5.2 mm atraumatic plastic tip
Working channel: Ø 2.2 mm
Articulation: 180° upward, 140° downward
Working length: 600 mm
Angle of view: 110°
Illumination: two distal integrated LEDs
Handle: ergonomic design with axial cable exit
Positioning of the working channel and irrigation channel relative to the image: at 3 o'clock
Endoimage: octagonal, automatic white balance and brightness control, focusing is not necessary
Cable length: 2.5 m
Therapeutic model for ENDOCAM Flex HD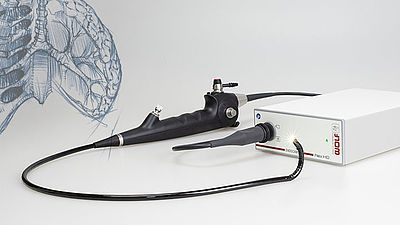 Sheath: Ø 6.2 mm
Distal tip: Ø 6.2 mm atraumatic plastic tip
Working channel: Ø 3.0 mm
Articulation: 180° upward, 140° downward
Working length: 600 mm
Angle of view: 110°
Illumination: two distal integrated LEDs
Handle: ergonomic design with axial cable exit
Positioning of the working channel and irrigation channel relative to the image: at 3 o'clock
Endoimage: octagonal, automatic white balance and brightness control, focusing is not necessary
Cable length: 2.5 m
Slim line model for ENDOCAM Flex HD
Sheath: Ø 2.9 mm
Distal tip: Ø 2.2 mm atraumatic stainless steel tip
Working channel: Ø 1.3 mm
Deflection: 270° upward, 270° downward
Working length: 600 mm
Angle of view: 90°
Illumination: LED integrated in the handle
Handle: ergonomic design with axial cable exit
Positioning of the working channel and irrigation channel relative to the image: at 9 o'clock
Endoimage: square, 1.5x zoom, detail enhancement, automatic white balance and brightness control, no focusing necessary
Cable length: 2.5 m
Other products you may be interested in