Surgical techniques in pneumology / thoracic surgery
For rigid and flexible bronchoscopy Richard Wolf offers versatile instrument systems with the most innovative accessories. Thus the rigid TEXAS bronchoscope system with tubes available from 6 to 14 mm inner diameter and integrated telescope is supplemented with the Hemer Bronchoscope. The integrated sampling channel for measuring the CO2 value is a special feature of the Hemer Bronchoscope. Naturally the Hemer Bronchoscopes are also available in different diameters as tracheoscope or bronchoscope.
Our rigid bronchoscopes are effectively supplemented with innovative instruments such as the TipControl articulated forceps system or the ERAGONbipolar biopsy forceps, which not only have a special ergonomic design but also offer a special level of safety through the possibility of bipolar coagulation (hot biopsy). Not to mention the Endobronchial Shaver Blades and Secretion Remover; here the integrated suction system allows a particularly efficient application. The bipolar suction system rounds out the system and ensures fast hemostasis should the need arise.
Foreign body aspiration is a frequent indication, particularly in the pediatric bronchoscopy. Here Richard Wolf offers an instrument set with appropriate pediatric bronchoscope tubes in different lengths and diameters that can be combined with various optical forceps and endoscopes.
In the area of flexible bronchoscopy Richard Wolf offers state-of-the-art sensor bronchoscopes in diameters 6.2, 5.2, and 2.9 mm, which through their design are optimally predestined for diagnostic and therapeutic applications.
High-quality, spreadable video mediastinoscopes with a wide range of functions are available for mediastinoscopy; these instruments can also be disassembled for reprocessing and thus they satisfy the most rigorous hygienic requirements.
In the area of thoracoscopic surgery an innovative Mini-Thoracoscopy Set is available that is optimally suited for the most minimally invasive diagnostics using the single-port technique. A wide variety of access systems and endoscopes are available for therapeutic thorascopy. Thanks to the incredible product versatility the ERAGONmodular forceps system offers solutions for a wide variety of requirements in an extremely ergonomic design.
Rigid bronchoscopy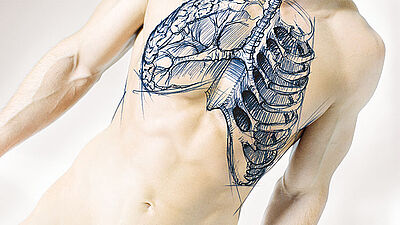 Rigid bronchoscopes are used for diagnosis and therapy for various indications in the central bronchial system. Rigid bronchoscopy remains the gold standard, especially for the removal of foreign bodies or for interventional procedures, such as tumor removal or stent implantation. For these techniques in particular the key requirement is that the bronchoscope must have a large working channel. Thus various forceps and instruments can be easily introduced synchronously or alone. Intubation has also been frequently problematic with the rigid bronchoscope tube. An integrated, optical view now makes introducing the bronchoscope significantly easier.
Products for this technique
Flexible bronchoscopy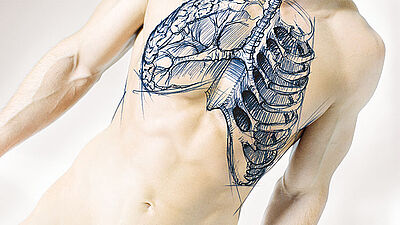 Flexible Bronchoscopy has increasingly gained significance over rigid bronchoscopy in the daily routine. Many rigid bronchoscopy tasks can be carried out more quickly and more gently for patients (under local anesthesia) with flexible instruments. Flexible instruments allow inspection of deeper positioned sections, are less traumatizing, and due to the reduced personnel expense and reduced preparation time it can be carried out more cost-effectively.
Fields of application:
Diagnosis of respiratory tract diseases
Biopsies
Supplementation of rigid bronchoscopy in intervention procedures
Therapeutic intervention
Bronchial lavage
Intubation aid with visual view
Foreign body removal
Diagnoses for early detection of bronchial carcinoma
Products for this technique
Mediastinoscopy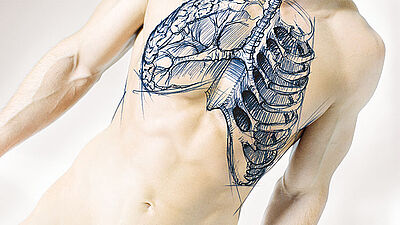 Mediastinoscopy is for presentation, biopsy, and removal of mediastinal lymph nodes. Today this is performed with video support.
Thanks to the visualization on the screen the anatomical structures of the anterior medial and posterior mediastinum can be clearly viewed. Bimanual preparation is now possible in a team; lymph nodes can now be completely removed and under some circumstances the mediastinum can be selectively removed (VAMLA). An additional aspect of video mediastinoscopy is a more qualified and a safer training of thoracic surgeons.
Products for this technique
Thoracoscopy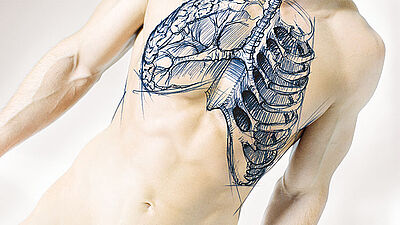 Today thoracoscopic surgery, a minimally invasive procedure, in which disease of the chest cavity can be treated diagnostically as well as therapeutically, has established itself as the standard intervention.
The development of special endoscopic surgical instruments and the advance in video camera systems enable a common view for the complex operations in the thorax for the surgeon and surgical team.
Application areas
Diagnoses:
For clarification of findings in the pleural space, the pleura and peripheral parts of the lung
Operative:
For operations on the pleura, lungs, thoracic spine or mediastinum
Advantages
Smaller access with less trauma
Lung function of the patients is significantly less restricted
Less pain
Shorter hospital stay
Shortened, postoperative recovery phase
Products for this technique