Reprocessing
A simple matter of cleanliness
The instruments used in clinics and medical practices are of significant material value that can be obtained through professional reprocessing over many years.
At Richard Wolf, we believe in offering solutions, which not only work excellently but also yield significant benefit for your practice. Stable and reliable storage of high-value instruments, efficient handling, and maximum control are the key characteristics of what we provide. Such advantages will reduce time and save costs.
Perfect reprocessing starts at Richard Wolf already in the development of our instruments. For example, we also offer systems that work without sterile repackaging or seal changes.
Maintaining clean and sterile instruments is a central demand of hygiene management. Maintenance-free and quickly disassembled components, for example, are incredibly helpful when it comes to ensuring flawless cleaning and sterilization. What remains is the human factor. For this reason, proper training of the relevant staff is an absolute necessity. Richard Wolf gives practical demonstrations, which show how to use, handle, and maintain instruments correctly, thus preserving their value. Instrument reprocessing today means maintaining high standards of hygiene in order to ensure that the very best medical devices are always provided to clinics, medical practices, and patients.
Information about reprocessing
Richard Wolf products in use
Perfectly suited to modern reprocessing techniques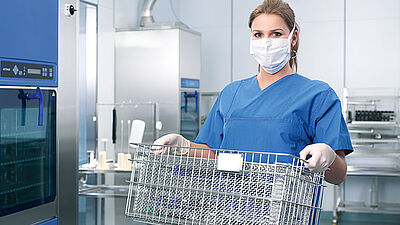 The reprocessing of medical devices is an elementary part of the development process. Applicable standards, guidelines, and laws must therefore be observed and applied on the one hand, on the other hand the materials used must be able to withstand common reprocessing procedures.