This discipline covers the areas of orthopedics, trauma surgery, and sports medicine. It deals with the diagnosis and therapy of diseases and injuries to the musculoskeletal system, and rehabilitation of patients.
The trend toward minimally invasive therapies and surgical procedures is particularly obvious in these disciplines, since major invasive interventions on the joints would lead to additional scarring and pain, as well as extended restriction of movement and a longer rehabilitation phase.
Richard Wolf has collaborated with leading clinical partners to develop, produce and market arthroscopic systems and implants that can be applied to treat all joints.
Richard Wolf instruments have been designed to combine efficiency and therapy at the highest level. Arthroscopic products and systems are developed for all joints and they are always in tune with the latest trends. The spectrum of products ranges from arthroscopes and instruments, through functional motor and fluid management systems, to implants for reconstruction of tendons and ligaments.
The step into the future – arthroscopic equipment from Richard Wolf perfectly harmonized with the surgical techniques of today.
Perfectly matched to modern orthopedics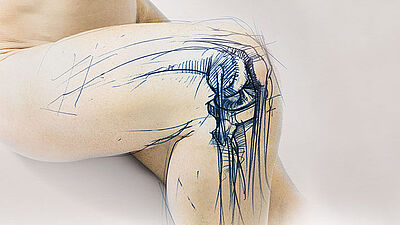 "State of the Art" treatment of various indications in orthopedics depends on the continuous implementation of new surgical techniques and the upgrading of established techniques. This is the only way to achieve a sustainable high standard of patient care.