Welcome to the world of progress
From small beginnings in 1906 as a small family enterprise in Berlin, Richard Wolf has grown to become an international organisation through a network of 18 branches and 130 distributors.
We made it our business to identify and promote new medical trends. We collaborate with health professionals and scientists to develop functional and first class products and system solutions. In close cooperation with our customers, we then turn the ideas into innovative and user-friendly solutions.
Every medical development needs courageous and creative heads that help make it a success. We face up to this challenge true to our "spirit of excellence" guiding principle.
Over 1700 highly-qualified employees work every day with great personnel commitment and technical expertise to turn the vision of perfect insights and patient-friendly interventions into reality. Wherever the focus is on people, sustainability and interdisciplinary developments thrive beyond the borders of individual disciplines.
Services and service packages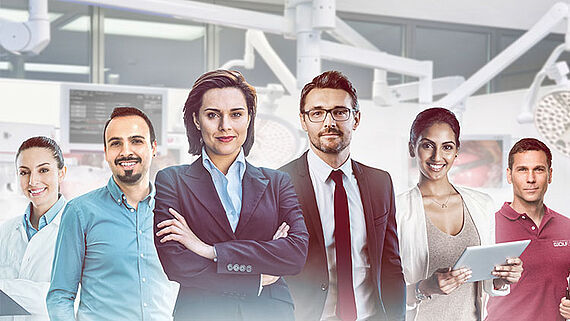 We put people at the heart of things
Are you committed, responsible and interested in new things? Are your efforts goal-oriented and do you want to contribute your own ideas to help shape progress? Then you're the perfect fit for us. Share modern technology with us and experience our visions – for a healthier world and human togetherness in the "spirit of excellence".
To our job offers