Service and Service Packages
In your decision to purchase Richard Wolf products, you have opened the gate to one of the best ranges of services and service work on the market. Technical maintenance remains a key, yet no longer the mainstays in the Richard Wolf services and service work sector. Our motivation, besides technical safety and financial viability, is to offer a high degree of quality and reliability and reduce the ever-growing complexity in your field – to the highest individual level and one that reflects your needs.
Richard Wolf Service – satisfied with safety.
The three service pillars
Maintenance & customer service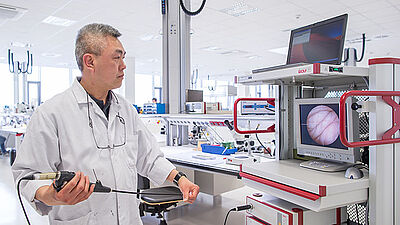 It stands to reason that frequently-used products, which can be highly complex and fragile, become damaged over the course of their service life. With our completely new maintenance center in a modern environment, we offer all the services required to bring a defective product to the same level as a new one in the shortest possible time.

Our service concept meets our own claim, to minimize the downtimes for you in case of damage:
Rental instrument concept
Individual repair
Used instrument disposal (Register no. WEEE DE 62106361)
Our customer service is set apart by reliability and qualification. Training and regular refresher courses for our employees guarantee that our Service Team is your competent point of contact.

Get in touch. It will be our pleasure to advise you.
Technical support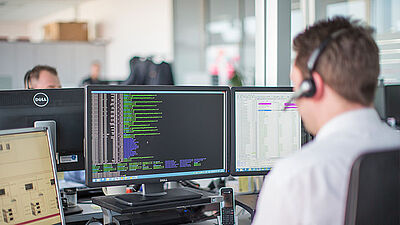 Do you need technical support for using or maintaining your products? We are happy to advise by telephone, email or on your premises.
Remote Service: Our Remote Service solution allows us to provide advice on your products or systems from a distance – in the familiar quality, just as if we were on site with you.
Project Management: Are you planning to build or modernize one or more operating theaters? Are you looking to simplify and optimize your workflows and processes? Together with our experts, we will assist you across all project management phases.
Technical Training: We offer a host of group-specific training programs, which are geared towards creating a practical relevance. Benefit from our global experience to install, operate and maintain our products!
Plannable endoscopy
Progress is a good investment. Richard Wolf offers tailor-made finance concepts which maintain liquidity. You then have the capability to invest promptly in new products and improved systems. This provides you with certainty and creates flexibility that benefits your patients.
Continual renewal of the entire portfolio of medical equipment is necessary to keep pace with modern medicine. Yet this requires continuous investment. Old systems and technologies with spiraling operating costs also consume financial resources. They slow down workflows and prevent improvements in quality and processes. Providers of medical services are compelled to invest continuously in the latest medical equipment and technology so that they are in a position to give patients optimum treatment and operate profitably.
When healthcare organizations upgrade medical technology and equipment, traditional sources of finance are increasingly being replaced by innovative financing methods. Shorter cycles of innovation in the technology sector make tailor-made financing models, such as financing, leasing or rental models, an exciting alternative for an increasing number of hospitals and medical practices.
We offer support based on partnership and fairness!
3xC concept
"3xC" is the synonym for "Complete Coverage Contract" concept. Richard Wolf offers this concept as the perfect approach to an individual turnkey solution in endoscopy. One that's easy on the investment budget and reduces maintenance costs – for the agreed monthly fixed price.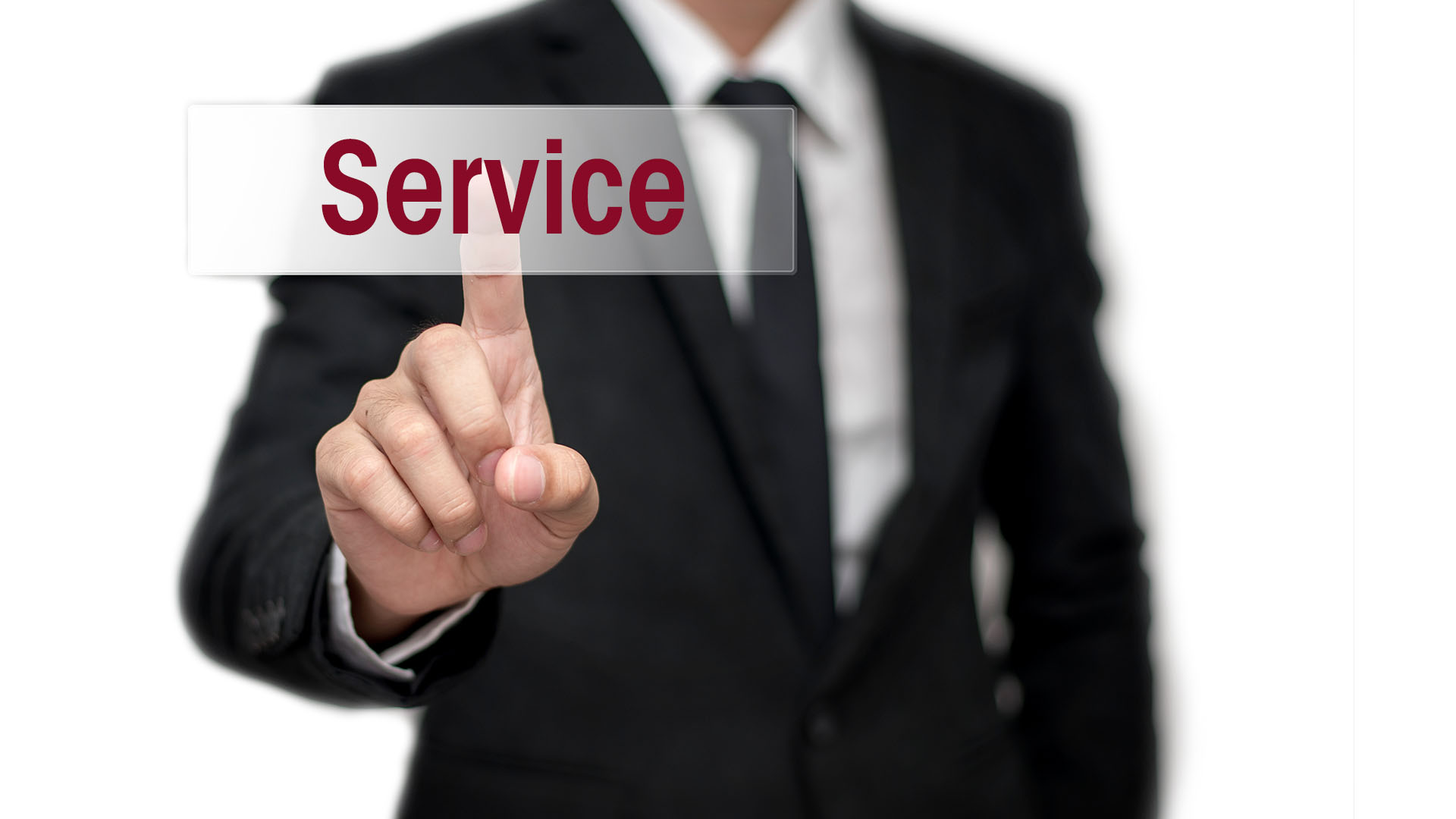 Extended warranty
If the worst comes to the worst, the Richard Wolf extended warranty puts you on the safe side. It offers extended protection at the end of the statutory warranty for a term to suit you.
The Richard Wolf extended warranty is your first significant step towards risk minimization. And helps you reduce unscheduled maintenance expenditure.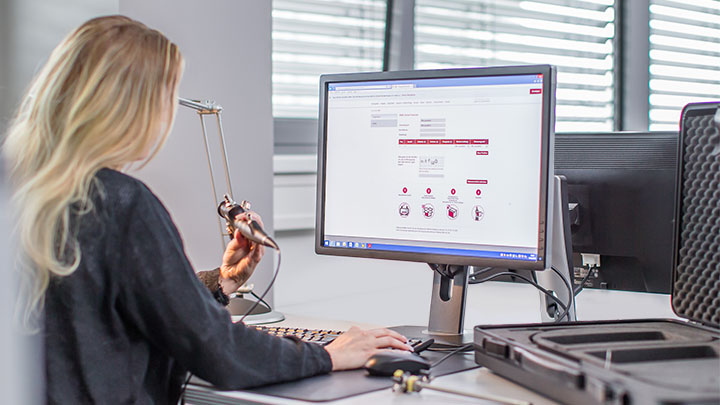 We can make the product you returned available again within a short time through the repair order number (RMA).
Take a look behind the scenes at the Richard Wolf repair process. We will show you the stations through which your product passes so you get it back in the original quality you are used to.
We offer repair services for flexible sensor endoscopes, guaranteeing safety and the very highest technical quality standards.
FAQ
What kind of costs can I expect on an estimate?
A fee of 60.00 € is charged if the requested estimate does not result in a repair or replacement order.
How do I get my defective device/instrument to Richard Wolf?
Be sure to request a RMA number through the online form and place this document in your consignment. Please send the appropriately packaged parcel to:
Richard Wolf GmbH
Customer Service
Pforzheimer Strasse 32
75438 Knittlingen, Germany
You can request appropriate packaging by calling our Service Hotline. As an alternative to parcel post, we offer a free-of-charge collection and delivery service in certain regions. Get in touch – we'll be happy to help.
What does it cost to have the repaired device/instrument returned?
There is a lump sum charge of 5.95 €. This includes transport and packaging. Additional services (e.g., express deliveries) are subject to an extra charge.
How can I bridge repair times and downtimes?
To avoid downtimes, we offer a range of product-related services, including rental devices for bridging repairs or replacements. Our service staff will be happy to provide detailed information about the various services on offer. Get in touch via our Service Hotline.
Can I perform repairs myself?
In certain cases, such repairs can be carried out by personnel qualified to do so. Further information about repairs can be obtained from our Technical Service by telephoning +49 (0)7043 35 1331 or emailing to techsupport@richard-wolf.com.
Does Richard Wolf GmbH repair products from other manufacturers as well?
Unfortunately, we are unable to repair any devices or instruments that do not appear in our product catalog. However, there is the option of replacing certain defective products with a similar Richard Wolf model. Our Customer Service will be happy to advise you.
What do I do if my electrical devices malfunction?
If your electrical medical devices and systems malfunction, simply call our Technical Service on +49 (0)7043 35 1331 or send an email to techsupport@richard-wolf.com. Our specially qualified staff can resolve the cause of many faults over the telephone.
How can I request a service technician?
Many of your electro-medical devices and systems can be maintained or repaired on your premises. We can also examine your instrument stock on your premises. Certainty is important to us. Please call our Technical Service Hotline on +49 (0)7043 35 1331 or send an email to techsupport@richard-wolf.com and tell us your preferred date.
Which cleaning agents & disinfectants can I use to reprocess my Richard Wolf instruments?
A list of cleaning agents & disinfectants that Richard Wolf has tested for material compatibility and approved can be found on the Richard Wolf website in the Reprocessing area.
How will my medical products be classified for reprocessing?
According to the recommendation for Hospital Hygiene and Infectious Disease Prevention (KRINKO) at the Robert Koch Institute (RKI) and the Federal Institute for Drugs and Medical Products (BfArM), the equipment owner is responsible for classifying medical products for reprocessing. The type of use is also a basic precondition for risk assessment and classification. The "Flow chart of the GDSV for the classification of medical products 2013" helps owners classify their equipment.
When do I need to sterilize my flexible endoscope?
Flexible instruments need to be sterilized only if classified as "Critical C". Flexible endoscopes classified as "Semicritical B" can be used in their disinfected state.