Arthroscopy has been a tool in standard orthopedic operations on many joints, for example the knee and shoulder joints, for many years. However, the surrounding musculature makes access to the hip joint much more difficult compared to the knee and shoulder joints.
In recent years, a number of surgeons have refined hip-joint surgery and developed techniques which permit arthroscopic treatment of an increasing number of conditions associated with the hip joint.
Frequent indications for hip joint arthroscopy are loose bodys in the hip joint, impingement of the hip joints, cartilage damage in the hip joint, disease of the mucus membrane in the hip joint, synovitis in the hip joint, and damage to the labrum.
Hip arthroscopy is a procedure for examining both the joint gap between femoral head and acetabulum (central compartment) and also the rest of the join area (peripheral compartment).
PANOVIEW telescopes and Arthrolution trocar sleeves - adapted specifically to meet the requirements of hip arthroscopy
All indications of hip arthroscopy can be treated
Modular aiming device for simple portal creation
Color-coded "One-Step" dilatation system in a range of diameters
Specially length-adapted punches with various angular deflections available
Microfractor PULSEShifter - force flow is directed almost completely along the distally deflected sheath (45°)
Instruments optimized for hip arthroscopy
Starting from the primary telescope portal, the new COXARTIS aiming device for hip arthroscopy is used to create other work portals safely, quickly and with reduced X-ray exposure for the patient and surgical team. The COXARTIS aiming device makes selecting the work portal much easier, especially for less experienced surgeons who are learning the technique of hip-joint arthroscopy for the first time or who do not carry out regular hip-joint arthroscopies.
Microfractor PULSEShifter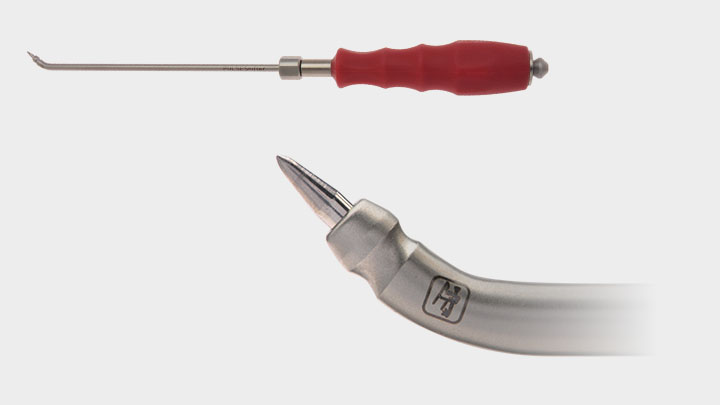 In order to match the anatomical characteristics of the hip joint in microfracturation as well, the PULSEShifter was developed to create an instrument that uses a patented solution to guide the impact pulse along the sheath curved at the distal end (45°) virtually without loss and conduct it into the movably mounted tip of the instrument.
Sheath and punch can be supplied as replacement parts
No electric drive unit required
Reusable
Verified, validated reprocessing
Subject to modifications. Please note that some products may not be available in all countries. Please always take note of the information that is provided with the product. For more detailed information, please consult with your contact partner or directly with Richard Wolf GmbH.
Other products you may be interested in