Battery-powered tools bee-system II
for all orthopedic indications and large bone surgery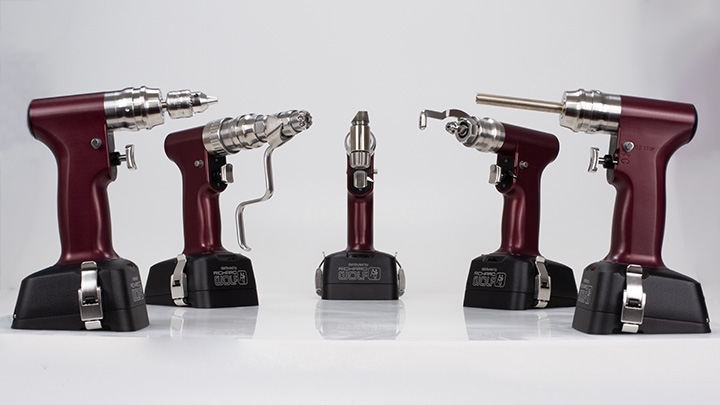 The system consists of battery-operated drive units with a range of attachments and accessories for drilling, reaming and bolting operations, for mounting of pins and wires, as well as for cutting of bones or hard tissues in trauma and endoprosthetic surgery.
Machine variants overview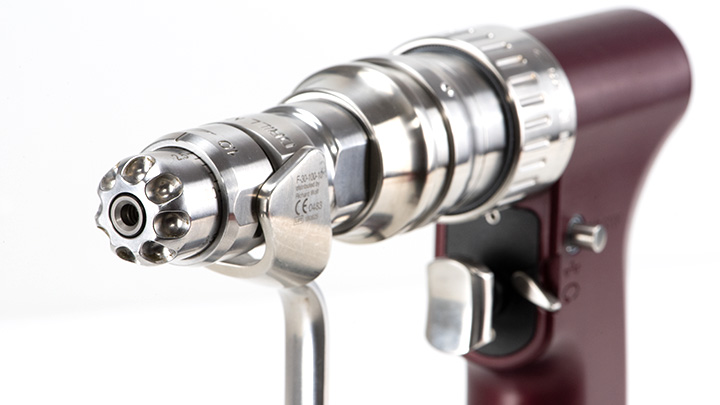 Drill & Ream machine
With Right/Left (forward/backward rotation)
Lock position
Oscillating mode on/off
Continuously adjustable rotation speed
Drill with 2 speed ranges, switch to change from Drill to Ream mode
Various chucks allow compatibility with all common drill bits and wires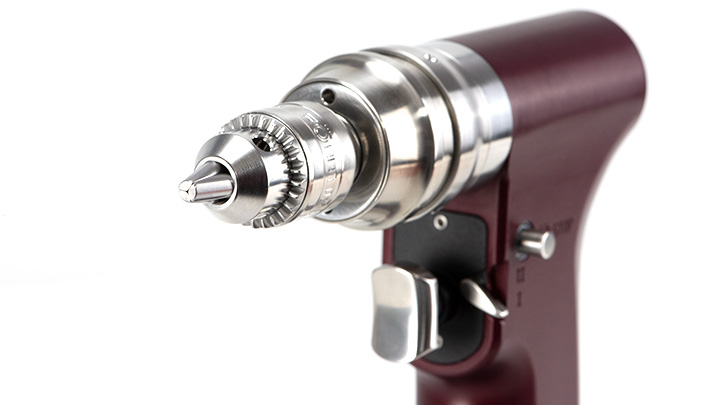 Standard Drill machine
With Right/Left (CW/CCW) rotation
Lock position
Continuously adjustable rotation speed

Various chucks allow compatibility with all common drill bits and wires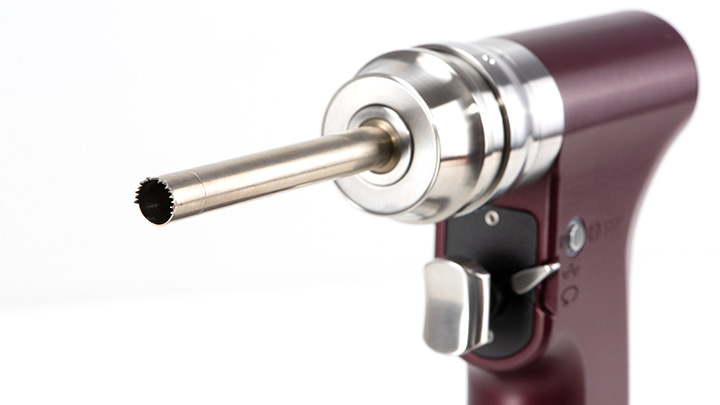 Oscillating Reaming machine
Continously adjustable adjustable oscillation speed

Holder for the patented hollow mills and hollow burrs
Avoidance of application errors through fixed locking position
Extraction of BT & BTB grafts with defined bone block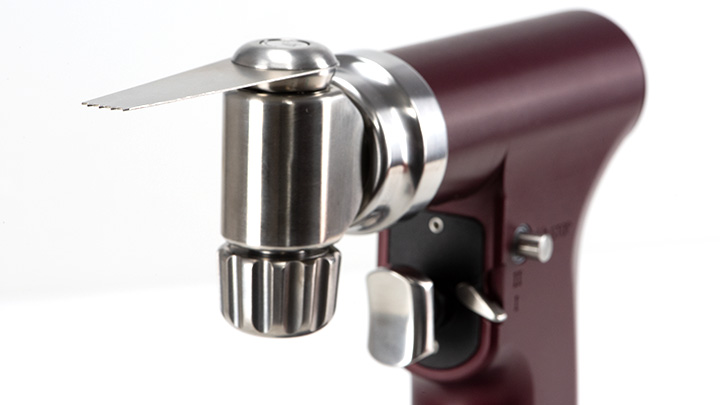 Oscillating saws
Sagittal oscillating saw in bone surgery:
With rotatable saw blade clamping in 45° steps (8 positions)
Manual speed adjustment and oscillating mode
Shift lever for operating in two different speeds
Available in 2 variants with 2° and 4° lateral saw blade movement
With AO-Synthes and Stryker connection of the saw blade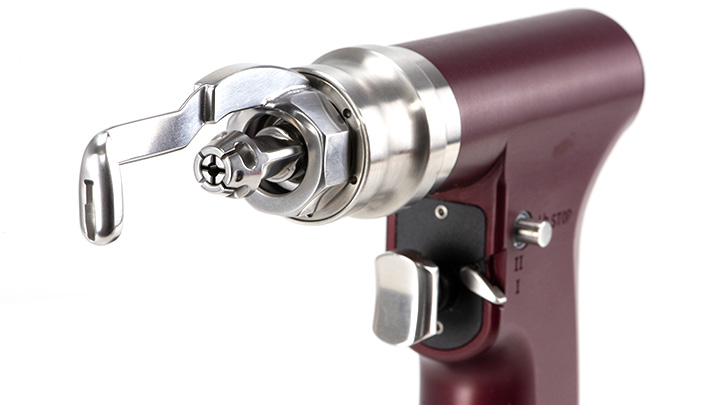 Sternum saw
Precise cutting guide with good visibility conditions
Easy clamping of sawblade (no tools required)
Use of saw blades with Stryker adaption
Attachment of protection sleeve in 4 different positions possible (locking at 90°)
Basic model to be used as receprocating saw
Powerpack
One powerpack for all machines
The heart of the system:
1 powerpack for all handpieces
lncludes control unit, battery, electronics and motor – united in one powerpack
Automatic recognition of the performance parameters according to the used handpiece
Unique durability, no need to sterilize delicate components
Latest battery technology - long lifetime, no memory effect
Display for battery charging status: green, orange, red (discharged)
White LEDs for additional illumination of the OR field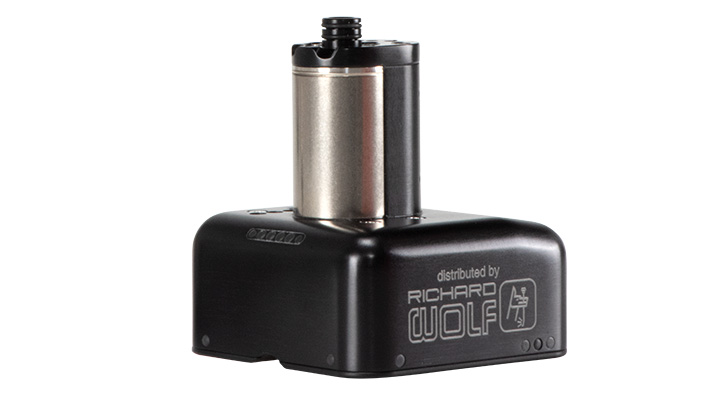 The advantages at a glance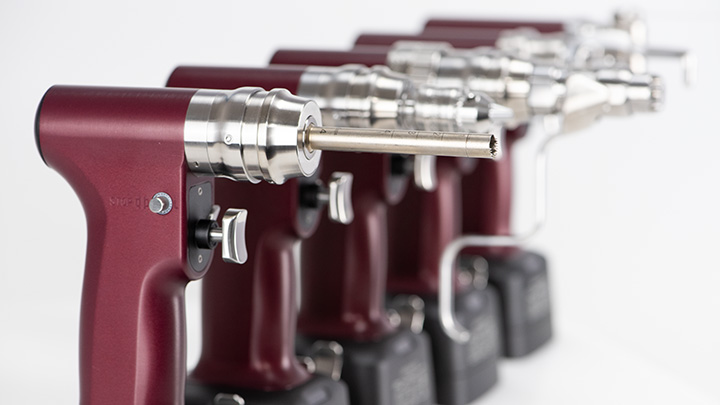 5 different housing options available
Purely mechanical housing without electronics for straightforward reprocessing
Same power pack for all machines
Power pack contains all electronic components
Innovative Li-ion technology
Ergonomic design
Extensive accessories
Made in Germany
Step by step: inserting the battery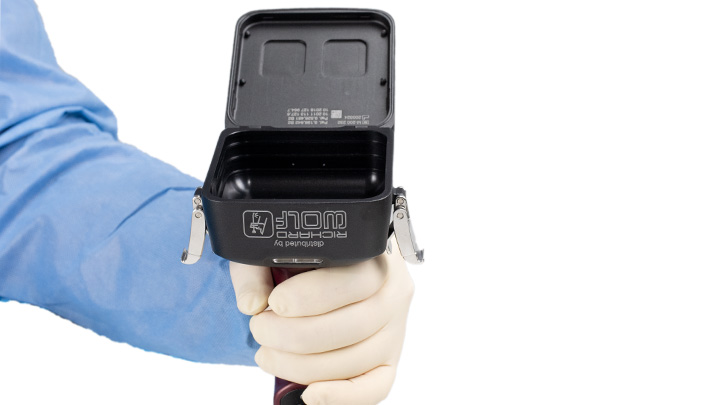 Step 1
Hold the machine with the battery compartment and open lid facing upwards (sterile personnel). The locking mechanisms on the side are hanging down.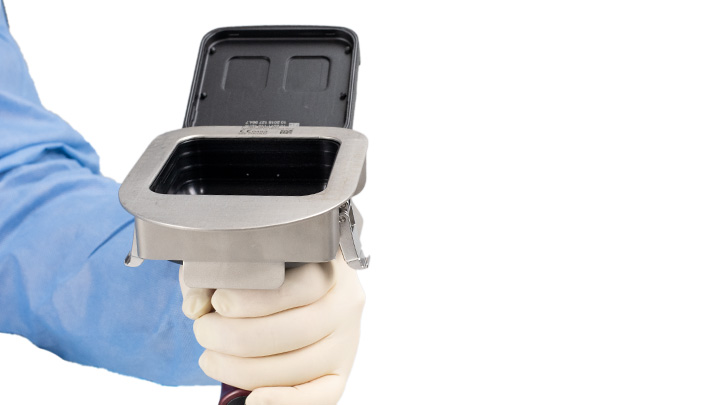 Step 2
Position the sterile insert over the battery compartment with the smooth side facing up (sterile personnel).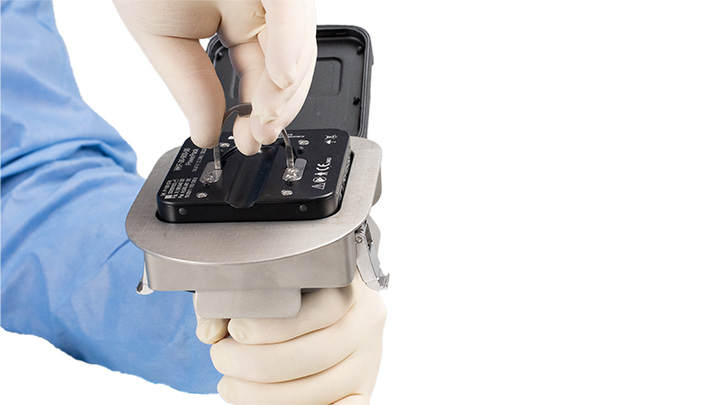 Step 3
Insert the unsterile battery through the sterile insert and into the battery compartment.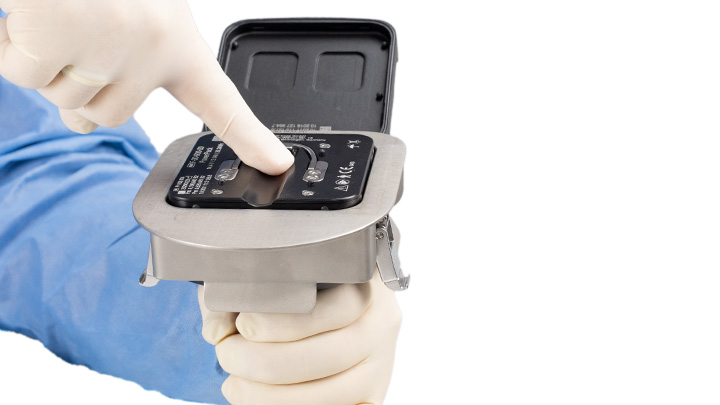 Step 4
Push the battery into the battery compartment as far as it will go (unsterile personnel). Remove the sterile insert and discard it as unsterile (sterile personnel).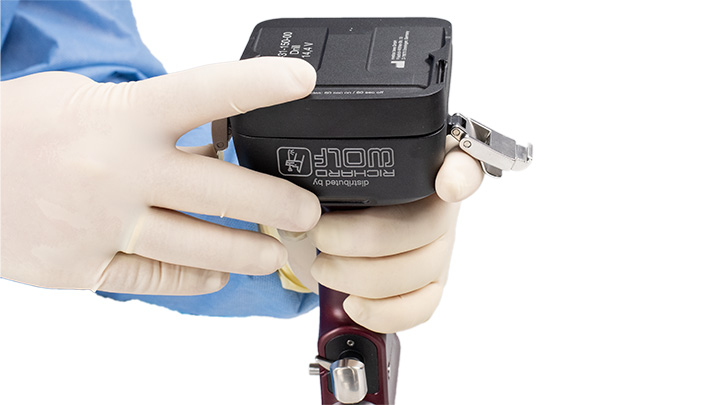 Step 5
Close the lid (sterile personnel).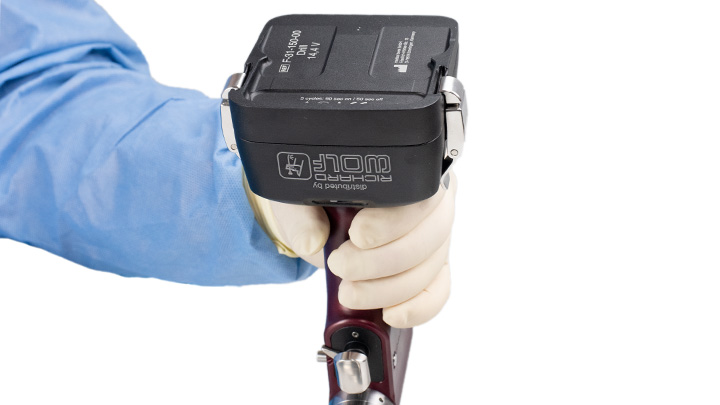 Step 6
Attach and close the locking mechanisms on the side (sterile personnel).
Subject to modifications. Please note that some products may not be available in all countries. Please always take note of the information that is provided with the product. For more detailed information, please consult with your contact partner or directly with Richard Wolf GmbH.
Other products you may be interested in: