Perforated basket for flexible endoscopes
Our flexibility is your safety
The perforated basket for flexible endoscopes offers the option to sterilize flexible endoscopes in all low-temperature sterilization procedures and can therefore be used universally for all flexible Richard Wolf endoscopes.
Thanks to its robust design and floating storage, the sensitive instruments are protected against vibrations not only during sterilization, but also during transport and storage.
The endoscope's minimal contact surface on the silicone O-rings also ensures reliable sterilization.
For all flexible endoscopes from Richard Wolf

Ideal for all low-temperature sterilization procedures, such as ethylene oxide and plasma sterilization

Minimum contact surface for optimum sterilization result

Protection against vibrations provided by floating storage in silicone

Integrated small parts basket for accessories

Safe reprocessing, storage, and transport

Simple handling
Technical Data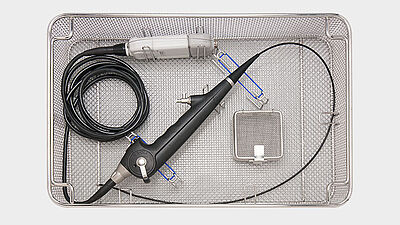 Holds: flexible endoscopes, for sterilization (steam and low-temperature), storage and transport,
Inner dimensions (WxHxD): 432x88x272mm
Outer dimensions (WxHxD): 448x106x288mm
Comprising:
Perforated basket lower part with an integrated small parts strainer
Brackets and silicone O-rings
Basket cover with spring lock and 2x grip
Subject to modifications. Please note that some products may not be available in all countries. Please always take note of the information that is provided with the product. For more detailed information, please consult with your contact partner or directly with Richard Wolf GmbH.
Other products you may be interested in