Perforated basket for laser fibers
Simply a safe solution for automated reprocessing of laser fibers
As another product in our range of baskets, the perforated basket for laser fibers is impressive due to its robust design and easy handling. This possibility for the reliable automated reprocessing of reusable laser fibers offers a clear advantage for optimizing work processes in reprocessing units in clinics. Silicone holders paired with special wire brackets also secure instruments during reprocessing and transportation.
For automated reprocessing and sterilization of reusable laser fibers

With silicone holders for a secure hold during the entire reprocessing phase

Automated reprocessing of reusable laser fibers is only possible using the basket.
Technical data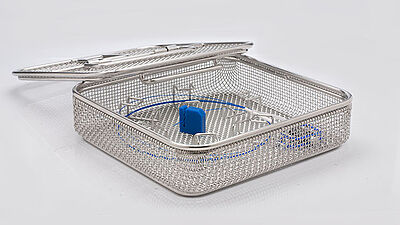 Holds: laser fiber, for machine reprocessing, sterilization (steam and low-temperature), storage and transport
Inner dimensions (WxHxD): 231x52x223mm
Outer dimensions (WxHxD): 248x72x239mm
Subject to modifications. Please note that some products may not be available in all countries. Please always take note of the information that is provided with the product. For more detailed information, please consult with your contact partner or directly with Richard Wolf GmbH.
Other products you may be interested in