Extracorporeal shockwave lithotripsy with excellent performance
Modular ESWL system
The modular structure of the device concept allows individual system requirements to be taken into account. Thus various positioning systems can be combined with the lithotripter module to create an ergonomically optimized workstation. The stationary arrangement of the devices allows direct access to the system without having to reposition the components each time.
In addition to the treatment of kidney, ureter, and bladder stones, the PiezoLith 3000 also offers the possibility of orthopedic and gastroenterological applications.
Triple focus switchable for optimum lithotripsy
Low, medium, and high-energy treatment
Dual simultaneous real-time localization (DSR) – the most precise type of localization
Inline ultrasound localization for fast and safe kidney stone localization
WOLF-Lithoarm – patented unit for adaptation of shockwave systems to x-ray devices, in order to maintain mobility and modularity of the individual components of the lithotripsy system
Outline x-ray localization for low radiation gallstone localization
Anaesthesia-free and sedation-free treatments
Guaranteed service life of 5 million shockwaves (or 2 years)
Therapy sources
Piezoelectric, direct-focusing shockwave technology
Worldwide-unique guaranteed service life of 5 million shockwaves (or 2 years)
Penetration depth max. 165 mm central / 200 mm distal (-6 db)
Single pulse, continuous pulse of 30 - 360 shockwaves per minute and ECG synchronization are possible
Low shockwave noise level of max. 82 dB(A)
No reflection waves and pain perception is much lower
Unique triple focus for indication-adapted stone fragmentation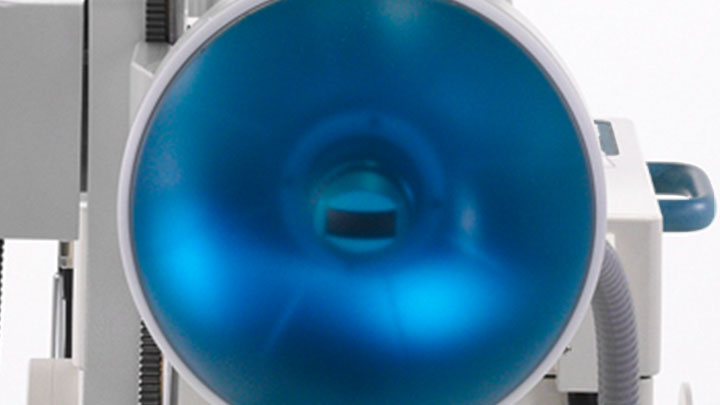 Dual simultaneous real-time localization (DSR)
Inline ultrasound localization
Continuous inline ultrasound monitoring is possible without radiation exposure and without interruption of shockwave therapy
The inline probe can be operated and controlled by a motor and is arranged coaxially and isocentrically to the therapy focus
Variable motorized adjustment of the inline probe in the near, middle and far range for individual patient monitoring from 0 to 120 mm through axial motorized movement
Coaxial isocentric inline ultrasound localization with 0° to +/-90° motorized rotation
Dual simultaneous real-time localization (DSR)
Outline x-ray localization
All x-ray systems can be operated and controlled by motor
Confocal and isocentric therapy focus arrangement
Variable, motorized lateral rotation range from 0° to +/-30°
The outline concept offers optimal image quality and minimal radiation exposure
X-rays can be taken at any time without interrupting the shockwave therapy
Subject to modifications. Please note that some products may not be available in all countries. Please always take note of the information that is provided with the product. For more detailed information, please consult with your contact partner or directly with Richard Wolf GmbH.
Other products you may be interested in
ELvation Medical GmbH
ELvation Medical GmbH, as the exclusive authorized ESWL/ESWT Sales & Service Team of Richard Wolf GmbH, supports you in the procurement and service of your piezo shockwave system.