Endobronchial Shaver Blades and Secretion Remover
Precise and selective removal
Particularly in the area of interventional bronchoscopy, where work is carried out conditions with very narrow lumens, every usable centimeter is helpful. Exophytic tumors often seal off the main bronchi. In such a clinical picture, the experienced bronchoscopist carefully weighs the choice of tissue ablation.
Alongside the existing methods of endobronchial ablation, these resections can be performed effortlessly with the new Shaver Blades.
The endobronchial Shaver Blades are different versions of rotary knives that are connected to the Micro-Stick S1 shaver handpiece.
The suction function integrated in the handpiece suctions up the tissue to be ablated at the distal end of the blade and this tissue is then removed when the PowerDrive Generator is activated.
The so-called "Remover" is another highlight. The Remover functions like a kind of "conveyor belt" with which viscous secretion can be easily removed.
The complete set is rounded off with a bipolar suction device for hemostasis. Shaver Blades, Remover and the bipolar suction device are specially matched to our TEXAS bronchoscope.
Naturally, these components can also be used with conventional, rigid bronchoscopes.
The advantages at a glance
Extra sharp cutting surfaces, serrated or smooth
Curved upward at the distal end – for a better view of the shaver tip in the endoscopic image
Rotatable by 360°
Special coating of the inner blade that improves gliding properties
World innovation – Secretion Remover for removing thick, viscous secretion or blood coagulum
Bipolar suction device – simultaneous suction and coagulation
CO2 channel for the tracheal scope tubes
Low-weight shaver handpiece
Time-saving, precise removal
For gentle and safe tissue resection and mucus removal
Aggressive blade
with double serrated cutting window, curved upward distally
This blade offers optimum ablation opportunities with the separation on the inner and outer sheath. It allows very large areas to be quickly resected.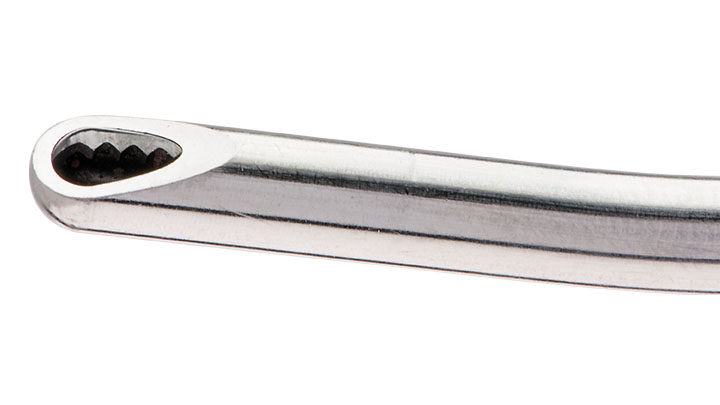 Non-aggressive blade
with smooth cutting window, turned up at the distal end
The non-serrated, smooth cutting window makes this blade particularly well-suited for tissue-saving, delicate, and pinpoint applications.
Subject to modifications. Please note that some products may not be available in all countries. Please always take note of the information that is provided with the product. For more detailed information, please consult with your contact partner or directly with Richard Wolf GmbH.
Other products you may be interested in