FLUID CONTROL Arthro
Controlled precision
FLUID CONTROL Arthro is a new pump system for arthroscopy. The particular strength of this system lies in a practical combination of high performance and cost-effective overall concept. The new software and technical enhancements make the pump ideal for diagnostic and therapeutic arthroscopies.
FLUID CONTROL Arthro combines the irrigation and suction pump in a single unit. A vacuum pump is integrated as well as a roller pump for irrigation. A single tube is adequate for evacuation. A second roller pump tube set is not required.
Intuitive pump operation using ergonomic touchscreen user interface
Design pressure: up to 200 mmHg
Design flow: up to 2 l/min.
Tube set management using transponder technology
Recognition of single-use and multi-use tubes
For multi-use tubes: monitoring of twenty-fold reprocessability
For single-use tube sets: deactivation after use, no more likelihood of confusion
Highly cost-effective with day patient tube sets – profitable from just two applications per day
Only the patient tube fitted with special hygiene connector (Care-Lock®) is changed
Intuitive operation of the pump using touchscreen or autoclavable remote control
Autoclavable remote control for managing flow, pressure and wash function
The wash function can also be activated by using a footswitch
Communication interface with the new PowerSpeed AS1 - automatic design pressure and design flow adjustment
A whole new dimension of performance
More pressure - more power
The system features a high pressure and fluid capacity.
For a faster and improved view in the established Wash Mode and more flexibility in use.
Target pressure: up to 200 mmHg
Target flow: up to 2 l/min.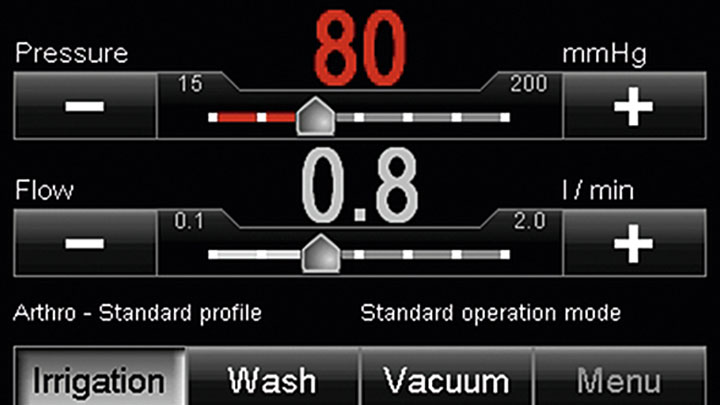 The intelligent fluid management function controls all processes.
Short reaction times in case of upward or downward pressure changes
Automatic and prompt pressure reduction with intra-articular overpressure
Visual and acoustic warnings
Level compensation: If the pump is below the level of the patient, the height difference can be compensated. FLUID CONTROL Arthro then automatically displays the actual intra-articular pressure.
Predefined indication profiles permit particularly efficient operation. Application parameters for knee, shoulder and small joints are stored in the profiles.
A total of up to 16 different individually programmable profiles can be stored
Universal tube set concepts
New tube set system for the FLUID CONTROL Arthro 2204
The new tube sets are equipped with a transponder (RFID coding) to ensure that the pump can be used only with the tubes intended for this purpose. As always, a range of tube set versions are available for the FLUID CONTROL Arthro 2204 too, depending on the user's requirement.
Day patient tube set (4171227)
Two-part tube set consisting of day tube and patient tube. In the day tube, the rinsing solution is routed from the bag through the pump head. After the pump head, the patient tube is connected to the day tube by a special hygienic connection.
Reusable tube set (8171223)
Various complete tube sets are available for users with just a few arthroscopic interventions per day. They can be ordered as a single-use product (4171223 with piercing spike or 4171224 with Care-Lock) or as a reusable tube set 8171223.
Vacuum tube (8170401)
In the case of the reprocessable vacuum tube 8170401, the suction pump bushing is connected to the suction container via a hydrophobic hygiene filter 4171121. The suction channel can be connected to the endoscope and the shaver at the same time using the sterile tube set 4170901 with Y-piece.
Subject to modifications. Please note that some products may not be available in all countries. Please always take note of the information that is provided with the product. For more detailed information, please consult with your contact partner or directly with Richard Wolf GmbH.
Other products you may be interested in