RESECTION MASTER
Difficult situations easily overcome
The tissue fragments accumulating during a myoma resection float in the dilation medium and obstruct visibility in the cavum. The risk of perforation increases as the procedure continues!
The resection procedure has to be continuously interrupted for the necessary removal of the resected tissue. This significantly prolongs the surgery times and can lead to what is known as the "TUR syndrome". Furthermore, the repeated insertion of the resectoscope after every curettage poses the risk of perforation!
Richard Wolf squared up to this challenge by developing the RESECTION MASTER system.
This hybrid solution from conventional resection and instantaneous suction of the tissue fragments combines the advantages of both sectors in one system, and this sets us apart from the competition.
With short pulses, the resection tissue is automatically aspirated without delay and this guarantees a continuous overview throughout the procedure. There are no repeated interruptions to remove the tissue fragments.
This results in considerably improved patient safety and a faster and simpler procedure for the surgeon.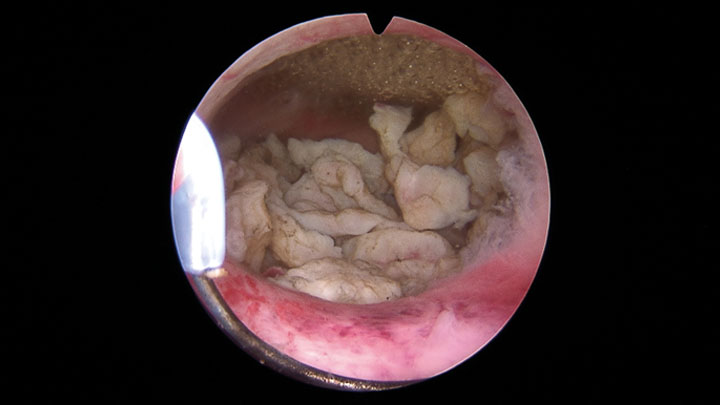 Resection with RESECTION MASTER
The advantages at a glance
The RESECTION MASTER is the unique resectoscopy system with automatic fragment aspiration for a permanent overview.
The RESECTION MASTER resectoscope
Large separate working channel for instantaneous aspiration of even larger tissue fragments
Unobstructed and clear view of the operation site
9 mm / 27 Fr. outer sheath with distally rounded isolation for atraumatic insertion and reduced resistance to insertion
Hybrid technology combines conventional resection and instantaneous aspiration of the tissue in one system
Suitable for both monopolar and bipolar applications without having to change the working element
E-line sheath quick-release system for simple and quick locking of sheath and working element
Range of electrodes for different applications
The RESECTION MASTER PUMP
Special, effective high-performance pump
Extremely fast suction pulse with three individual settings
Separate collecting container, tissue fragments and secretions automatically separated
Step-by-step menu guidance for quick and simple set-up
High efficiency with equally high patient safety
Large separate working channel for instantaneous suction of even larger tissue fragments
Unobstructed and clear view of the operation site
No manual removal of the resection tissue
Shorter surgery times
Less risk of perforation
Less resistance to insertion
Quick and easy handling
E-line sheath quick-release system for simple locking and/or removal
Fatigue-free operations thanks to soft stop on the carrier
Customized system
Suitable for both monopolar and bipolar applications without having to change the working element
Range of electrodes for different applications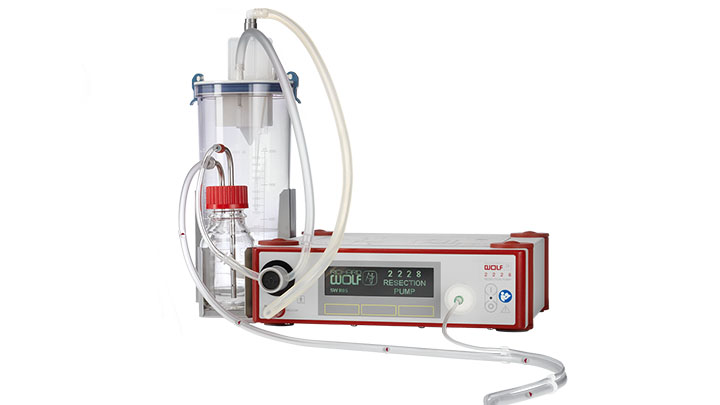 Improved comfort level
Innovative pulsed suction thanks to the highly-effective pump system
Extremely short suction pulses with three individual settings
Short suction pulses reduce fluid loss
Automatic separation of tissue fragments and secretion in separate collecting containers
Quick and simple set-up
Technical data
| | |
| --- | --- |
| Voltage | 100 – 240 V~, 50/60 Hz |
| Power consumption | 120 VA |
| Weight cpl. with accessories | 8.9 kg |
| Dimensions WxHxD | 340 mm x 105 mm x 420 mm |
| Operation vacuum | 650 to 750 mbar +/- 50 mbar |
| Maximum vacuum | 750 mbar +/- 50 mbar |
| Suction impulse Stage 1 (low) | 3.8 ml +/- 0.5 ml |
| Suction impulse Stage 2 (medium) | 6.2 ml +/- 0.7 ml |
| Suction impulse Stage 3 (strong) | 9.2 ml +/- 1.0 ml |
Other products you may be interested in