Rigid and Flexible Nephroscopes
Durability and Versatility
Trusted for more than 100 years, Richard Wolf nephroscopy instrumentation is utilized by surgeons around the world to treat stones in the kidneys that are too large for a standard ureteroscope. Our versatile portfolio of nephroscopes delivers diagnostic and therapeutic options for kidney and bladder stones. From the Extra Long Percutaneous Nephroscope to the Ultra-Mini Nephroscope, Richard Wolf is the all-around solution for nephroscopy.
27 Fr. Extra Long Percutaneous Nephroscope
Parallel eyepiece with oval working channel for accessory instruments up to 4 mm (12 Fr.) diameter

250 mm working length

Utilizes standard length percutaneous forceps and probes

The working channel features a self-sealing membrane that eliminates the need to open and close levers, allowing the user to insert and remove instruments quickly and easily
24 Fr. Percutaneous Universal Nephroscope
Large oval working channel for auxiliary instruments up to 3.5 (10.5 Fr.) mm diameter while maintaining efficient irrigation

224 mm working length

User-friendly with continuous irrigation option, rotatable irrigation ring on the sheath and automatic valve

Parallel or lateral eyepiece option is available
Ultra-Mini PCNL (UMP) Set
The UMP set includes the Ultra-Mini Nephroscope, one of the smallest nephroscopes on the market, with a diameter of only 3.0 Fr.

260 mm working length

The water jet sheaths and obturators are available in 11 Fr. and 13 Fr.

Suitable for treating stones 10-20 mm in size, situated in the complex system of the lower renal calices

The unique design of the water jet sheath has the advantage of stone fragment retrieval without the use of baskets or forceps
Flexible Fiber Nephroscope
15 Fr. outer diameter with a 7.5 Fr. working channel

210° up 150° down deflection allows for access through the urethra and navigation of the bladder

Self-dilating atraumatic distal tip enables easy entry with less trauma to the patient

Lightweight and ergonomic design for optimal handling and enhanced surgeon comfort

Brake mechanism for locking the instrument tip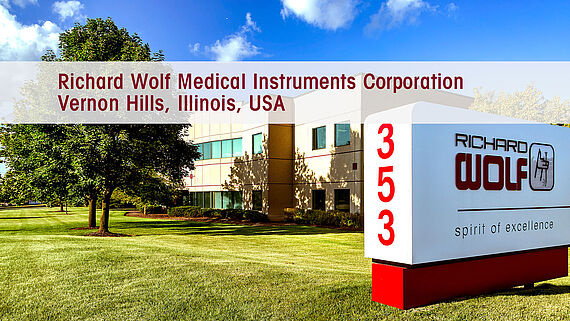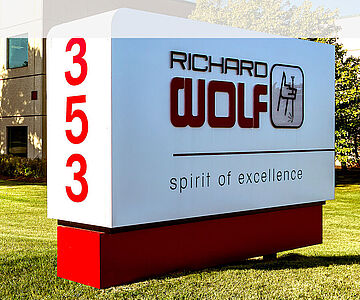 Questions?
We are ready to help!
Richard Wolf Medical Instruments Corporation