Richard Wolf awards sponsorship prize to Pforzheim University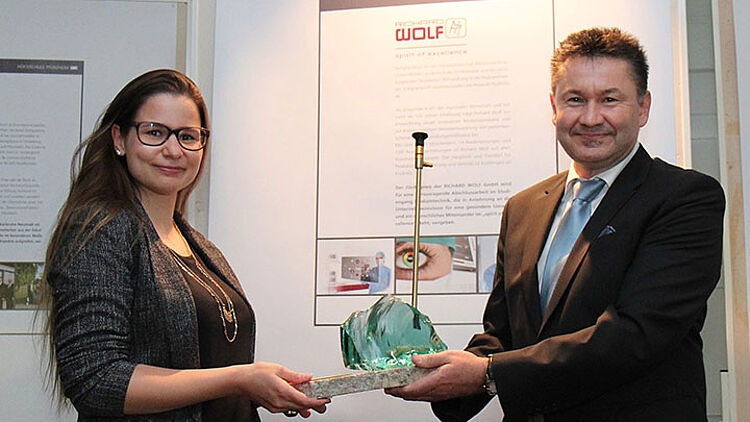 (Knittlingen, June 2, 2017) For the first time, Richard Wolf GmbH awarded the sponsorship prize to Pforzheim University. The sponsorship prize was awarded for exceptional work on the medical technology course, following Richard Wolf's corporate vision for a healthier world and a human cooperation in the "spirit of excellence".
Sandra Haas from Schwieberdingen, Germany, impressed the panel at Richard Wolf with her bachelor thesis on "Epitope mapping with Peptide Phage Display and in silico analysis".
Malaria is known worldwide as a tropical disease. Despite prophylaxes being available, the disease kills just under half a million people every year. Until now, no vaccine has been developed against it. Haas' work, which she carried out at the Fraunhofer Institute for Cell Therapy and Immunology in Leipzig, involved detecting specific structures of the malaria virus, which are to provide the baseline for developing new types of vaccines against the most dangerous form of malaria, malaria tropica. Haas worked at the Fraunhofer Institute using the latest medical technology methods. The results from the bachelor thesis and other research could effectively be used to find a vaccine against the previously impregnable malaria virus over the long-term.
Richard Wolf is a medium-sized medical technology company with over 1,500 employees along with fourteen subsidiaries and 130 foreign agencies worldwide. The company develops, produces and distributes numerous products for endoscopy and extracorporeal shock wave treatment in human medicine. Integrated operating theater systems round out the product range.
Press contact:
Richard Wolf GmbH
Press office
Pforzheimer Straße 32
75438 Knittlingen, Germany
Tel. +49 7043 35-1102
presse@richard-wolf.com
www.richard-wolf.com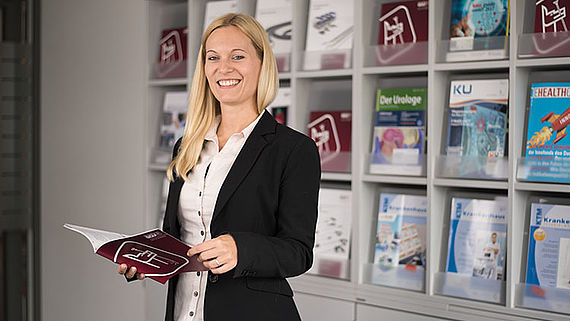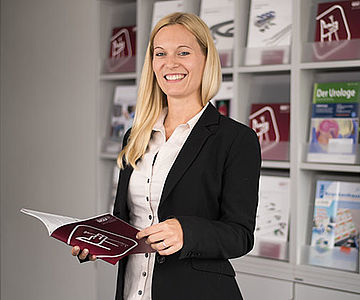 Questions?
We are ready to help!
Beatrice da Silva
Press & Public Relations