Richard Wolf at the European Association of Urology 2018 Congress in Copenhagen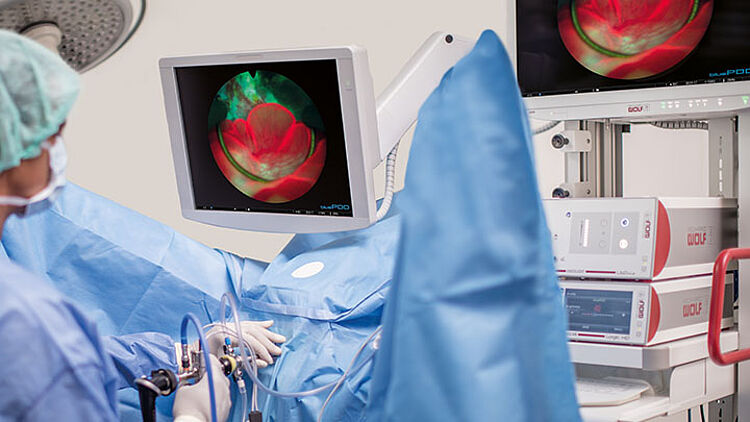 (Knittlingen, March 16, 2018) The new product solutions from the medical technology company Richard Wolf will once again be presented in live operations and pre-recorded videos at the European Association of Urology (EAU) 2018 Congress.
Holmium:YAG Laser MegaPulse 70+ - lithotripsy & enucleation laser
In terms of minimally invasive laser enucleation, Richard Wolf is presenting their Holmium:YAG Laser MegaPulse 70+ at the EAU Congress. The MegaPulse 70+ laser is optimally suited for the minimally invasive treatment of benign prostatic hyperplasia (BPH) and treatment of stones.
HoLEP (Holmium Laser Enucleation of the prostate gland) can be easily carried out with the available power of 70 watts. With its high frequency and energy, the laser can be used for quick and effective treatment of stones, thus providing a high speed system for lithotripsy for the user.
A unique, special 200-μm power laser fiber, which achieves a power output comparable with a 272-μm fibre in small diameters, is excellently suited for flexible ureterorenoscopies. The automatic detection of the laser fiber using RFID technology enables the user to simply and efficiently identify the laser fibre size. This detection stage can also be done in the packaged, sterile condition of the laser fiber. Further information is available at: MegaPulse 70+.
System blue - the system for photodynamic diagnostics (PDD)
Early detection plays a crucial role in the treatment of bladder tumors. Using photodynamic diagnostics (PDD), early-stage tumours can be visualised using a contrast agent, which selectively accumulates in tumour tissue. For over 20 years, Richard Wolf have been working on systems in this area for safe and simple early detection. "System blue" has now opened up new ways in blue-light applications using the most innovative technology and perfectly coordinated components.
As the world's first LED-based PDD light source, the new ENDOLIGHT LED blue offers maximum colour contrast for even greater differentiation of tumours. There are no limitations on carrying out a direct resection of the tumor tissue under blue light thanks to the bright, high-resolution, high-contrast display.
The display variants selectable on the camera controller also facilitate the application and provide the surgeon with a variety of options and greater safety. Another special feature of the system is a special fiber light cable, which as a result of employing the latest technology, is now autoclavable and flexible. A special PENDUAL blue HD camera head and coordinated blue endoscopes turn the individual components into a convincing complete system. Interested buyers can find details online at: System blue.
A flexible ureteroscopic lithotripsy using BOA vision and the MegaPulse 70+ laser by Richard Wolf will be demonstrated at the EAU Congress on Saturday, 17.03.2018 at 3:32 p.m. in a live surgical procedure carried out by Prof Seitz (Deputy Head of the Urological University Clinic, AKH, Vienna). The "System blue" PDD system will be used during a resection of a bladder tumor on Saturday, 17.03.2018 at 12:48 p.m. in a pre-recorded video by Prof. Hofmann (Director of the Department for Urology and Pediatric Urology, Philipps University of Marburg).
Richard Wolf is a medium-sized medical technology company with over 1,500 employees, along with fifteen subsidiaries and 130 foreign agencies worldwide. The company develops, produces and distributes numerous products for endoscopy and extracorporeal shock wave treatment in human medicine. Integrated Operating Room Systems complete the product portfolio.
Press Contact:
Richard Wolf GmbH
Press Office
Pforzheimer Straße 32
75438 Knittlingen, Germany
Phone: +49 7043 35-1102
presse@richard-wolf.com
www.richard-wolf.com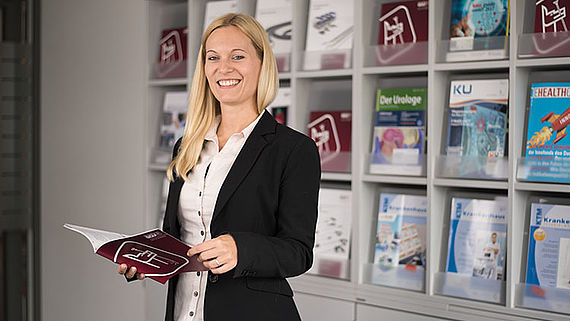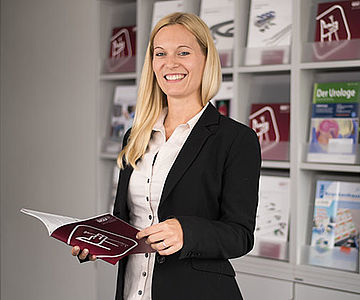 Questions?
We are ready to help!
Beatrice da Silva
Press & Public Relations