"Spirit of excellence" is our guiding principle – it is our constant dedication as we go about our daily work. We dedicate our full commitment to putting this "spirit" into practice, both in the development phase and into the manufacture of a new product, as well working alongside with physicians and users in our global sales and service activities. Our focus is on the requirements of our customers as well as "excellence" when it comes to the work carried out by our employees.
Richard Wolf GmbH offers a wide range of products and systems for endoscopy and extracorporeal shock wave treatment. Instruments are supplied to virtually all specialist disciplines in human medicine.
The product range is supplemented by Operating Room Management Systems which are marketed under the name core nova. The core nova system relieves personnel working in operating theatres from the burden of having to carry out organizational and administrative tasks and this makes the system equally appropriate for hospitals and medical practices. Industrial endoscopes complete the range of instruments available.
Guiding Principles
We are
a global business with headquarters in Germany and over a century of tradition and expertise in the field of endoscopy. We develop, manufacture and market specific system solutions for minimally invasive human medicine. Our broad product spectrum is supplemented by extracorporeal shock wave lithotripsy and therapy units.

Customer Satisfaction, Associates and Service
We are committed to the fulfillment of our customers' and associates' wishes as well as their satisfaction and confidence in us. With highly motivated staff, distinct service strategies, highest product quality as well as competent consultation and customer care, we aim to exceed our customers' and associates' expectations.

Innovation
We concentrate in the area of research and development. By focusing our ideas on the latest state-of-the-art technologies and through continuous dialog with leading specialists and opinion leaders in the field, we develop innovative, market-driven, value-added quality products.

Quality Management
Our staff have a high level of quality awareness through innovation and thorough training. In support of our high product quality we exceed all internationally recognized quality standards.

Organization
We strive to implement fast and flexible decision making, both in-house and in the field. Our wish is to strengthen job satisfaction through individual responsibility and to form optimal decisive action within the various market areas to guarantee our business success.

Ecology
All our staff are conscientious about the environment. Ecological concerns play a big role in our daily tasks. We believe that environmental responsibility complements economic success.

Staff Training
Through the development of highly qualified talent and the provision of first class apprenticeship and training programs, it has been proven that our staff can meet the continually rising demands of today's corporate environment.

Corporate Culture
We strive to offer our staff a stable and secure work environment in which performance and job satisfaction are well balanced by a system of support and challenge. Our corporate culture is one of fairness, respect, transparency, loyalty and mutual trust, where overall team spirit is positively high.
Compliance
Richard Wolf has a long standing record in endoscopy and enjoys a reputation as a reliable and trustworthy business partner. We are unambiguously committed to legal compliant conduct, transparency, sustainability, and fairness and integrity. We develop, manufacture and market our products based on the benchmarks of premium quality, customer satisfaction and safety for patients. Today, adherence to laws, and rules and principles of conduct specific to individual companies is described as "compliance" (conformity with regulations). The executive management in Knittlingen has defined global compliance standards for this and implemented them in the form of a code of conduct with associated guidelines. These guidelines are binding and apply worldwide for all employees working for Richard Wolf, including the executive management and our subsidiary companies.
Over recent decades, Richard Wolf has gained an outstanding reputation for quality and innovation in endoscopy. Richard Wolf has given these rules of conduct concrete form as internal company guidelines in order to maintain this reputation. The compliance guidelines created for this purpose provide a binding benchmark for conduct adopted by all employees. Furthermore, our objective is to be a fair partner for customers and suppliers with transparent business processes.
Quality Management
Quality is the foundation for our success – "spirit of excellence"
The quality of our products and service forms the platform for ensuring the continuous success and satisfaction of our customers in the marketplace. We achieve excellent quality and premium product safety through compliance with the regulatory requirements of our target markets and collaboration between all the divisions of the company. This principle is supported by motivated employees with a high level of expertise and a strong awareness of quality. On this basis, our processes and workflows are being continuously improved. Efficient and effective processes avoid non-conformance costs, secure business development and promote the success of our company.

Quality philosophy
Product quality and product safety
We develop and position high quality products to meet the needs of the marketplace. This involves using the latest technologies and engaging in knowledge exchange with opinion leaders in focused areas of applications. Our products are engineered with the state of the art technology to meet the highest requirements for product safety. Systematic analysis of the products in the market over the entire product life cycle enables the weak points to be identified at an early stage and appropriate measures to be introduced.

Customer satisfaction
We ensure customer satisfaction through highly motivated employees, well-developed service strategies, maximum quality for our products and services, and expert advice and support.

Regulatory requirements
Our objective is to meet the regulatory requirements of our target markets at all times.

Collaboration between the divisions
Interdisciplinary communication is ensured by regular meetings. These meetings aim to take decisions on steering the company in the right direction. When reaching decisions of this nature, it is important to meet the expectations of our customers while simultaneously taking the business interests of the company into account. These considerations need to be implemented in a well-balanced approach.

Employees
A continous analysis alongside employee discussions and systematic advanced training, ensure a high level of specialist expertise in all areas.

Processes and workflows
Quality is a collaborative effort. A joint approach enables us to carry out regular process reviews with the objective of optimizing the effectiveness and efficiency of our process workflows. This in turn forms a building block for the success of our company. Systematic Internal Audits are carried out to ensure the effectiveness of our processes and workflows. Transparency, communication and training create continued quality awareness.

Business development
Preventive non-conformance management and reduction of waste drive an increase in profitability. Our aim is therefore to prevent faults at an early stage or at least to identify them as quickly as possible. They can then be monitored to ensure the improvement of our products and workflow.

Quality Management System
The quality management system implemented by Richard Wolf is certified in conformity with DIN EN ISO 13485 and EC Directive 93/42/EEC. As a company operating on the global stage, we also meet international requirements of our target markets. Additionally we are MDSAP certified.
DIN EN ISO 13485 MDSAP Certificat MDR Certificate
EG-Directive 93/42/EEC Annex II EG-Directive 93/42/EEC Annex V
Wolf-Operational-Excellence
Richard Wolf is continuosly striving to work towards excellence. This is the maxim for a holistic, lean transformation. Our interpretation of the concept of W-OPEX expresses the Wolf Operational Excellence Concept. It encompasses the alignment of the company with the requirements of the marketplace, our customers, and our own corporate guidelines. An interdisciplinary roadmap for incremental process optimization defines the route to achieving our ambitious goals.
The W-OPEX philosophy is already deployed at the first stage of the entire supply chain in order to enhance added value and cost-effectiveness in the relevant business processes. The sales processes follow in the next stage geared to increasing the positive effects. Another component of W-OPEX is Critical Chain Project Management in research and development, which reduces the time to market by maximizing innovation and project throughput. An improvement organization was created in order to foster sustainable transformation within the company and achieve the ambitious targets.
A self-learning organization is being created together with employees and managers with the objective of achieving continuous improvement.
More than 100 years of experience
Founded in 1906 by Georg Wolf in Berlin, the Wolf Group has drawn on its over 100 years of experience to play a leading role in the development of endoscopy and shockwave therapy. Innovative solutions for human medicine are the result. This integration of science and medicine is what defines the quest for first class products and system solutions. Richard Wolf GmbH has been owned by the Richard and Annemarie Wolf Foundation since 1968.
Richard and Annemarie Wolf Foundation History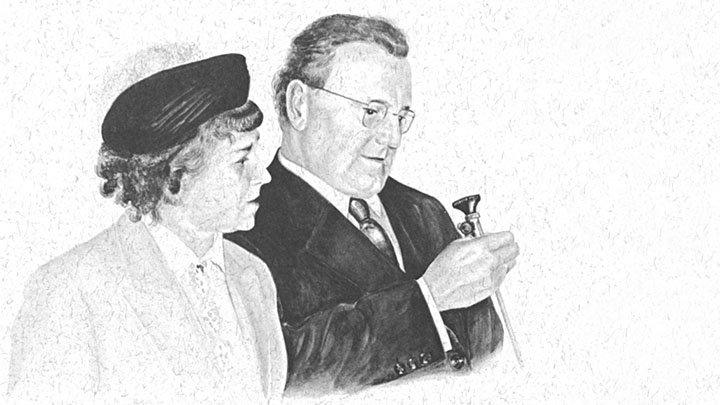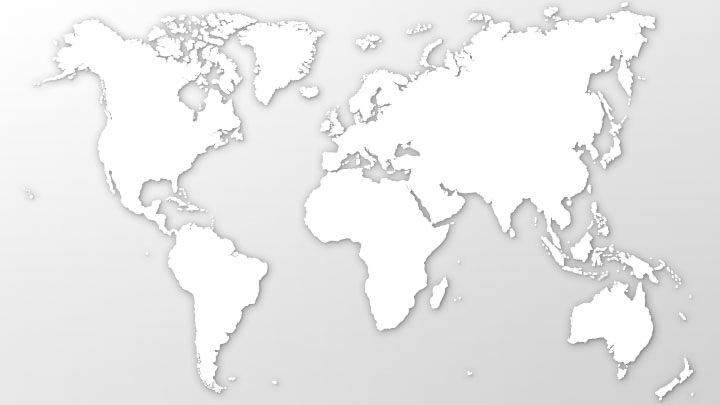 What began as a family business from the headquarters in the German town of Knittlingen has grown to become a company of international relevance with a global presence. We currently have 18 subsidiaries and 130 distributors across the globe, to ensure we are able to fulfill the wishes and needs of physicians, patients, and technicians alike. In addition, further service locations work to meet requirements in particularly strong or emerging markets, due to supply and demand.
Richard Wolf had many awards, such as quality, design, innovation, product design, or for our branding and communication strategy, and we continue Richard Wolf GmbH has been honored with awards on multiple occasions.
The core nova and OR integration solution was named as the top product at the M&K AWARD 2017. What's more, Richard Wolf received the Medical Communication Award in recognition of the company's marketing strategy in 2017. At international level, the ENDOCAM Flex HD endoscopy camera was recognized by the International Business Award.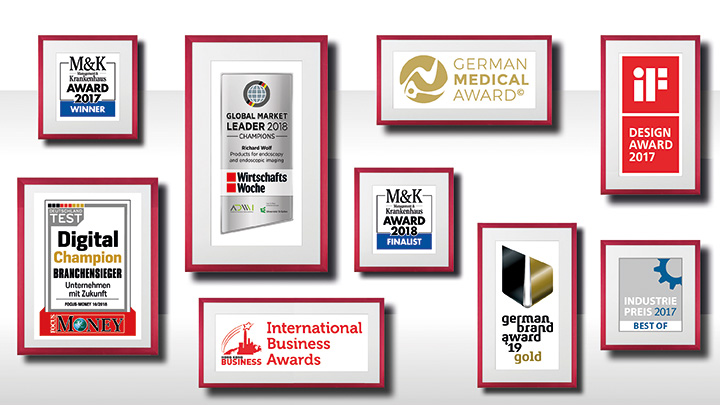 Putting people at the heart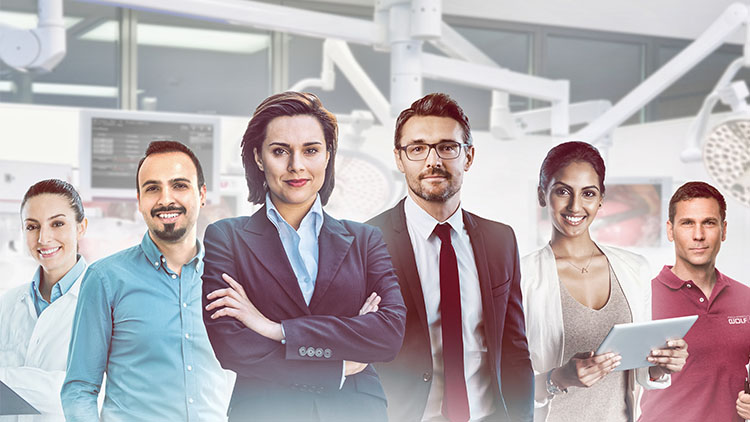 In every area we are involved in, values such as fairness, respect, team spirit, and trust shape a good working environment in which quality and sustainable entrepreneurial results thrive.
Enjoying the work that we do is an essential factor for success at Richard Wolf. Our employees demonstrate our "spirit of excellence" with passion and knowledge, and – what's more – with a smile!
Career