MegaPulse 70+
Power. Flexibility. Usability.
With the 70 watts MegaPulse 70+ holmium:YAG laser, a totally new and far-reaching treatment spectrum is enabled for the endourologist. More power, more versatility, and more application comfort – combined in just one device with an outstanding price-performance ratio.
The advantages at a glance:
Multifunctional – one laser for lithotripsy and enucleation
Powerful –
Power: 70 watts
Energy: 5.0 joules
Frequency: 60 hertz
Unique power laser fiber with a 200 µm diameter
RFID detection of the laser fiber in sterile packaging
LITHOTRIPSY MODE
Stone treatment made easy – In this regard the user can select settings that favor fragmentation ("Power Fragmentation" setting), dusting ("Dusting" setting, "Power Dusting") or popcorning ("Popcorning" setting).
SOFT TISSUE MODE
Cutting results – Presets ensure optimum cutting performance depending on the properties of the tissue. For the appropriate setting, the user can select between "Forced Cut", "Standard Cut", and "Precise Cut" but also "Coagulation".
EXPERT MODE
Free pulse selection – The MegaPulse 70+ laser offers the experienced user the possibility of selecting the pulse width in three stages – short, medium, and long – and thus cover a broad spectrum from 50 µs to 1100 µs. The values for energy and frequency can be individually adapted.
MegaPulse 70+ briefly explained
Automatic laser fiber detection – even in packaged status
Detection of sterile laser fiber via RFID technology, without being connected to the device
Automatic detection of the laser fiber diameter
Special user advantage through a use history of multiple use fiber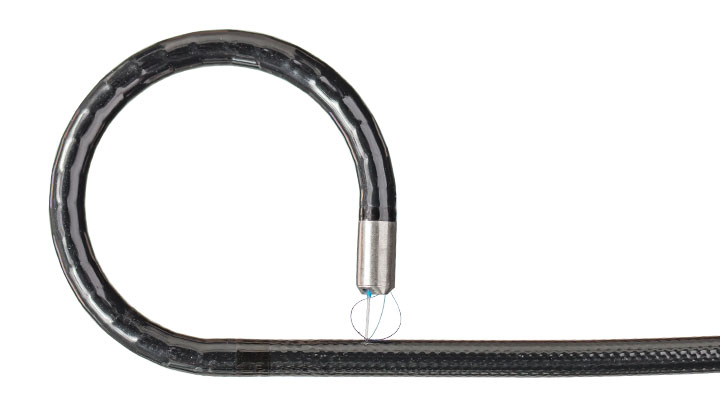 Special power laser fiber for greater power output
200 µm power laser fiber – comparable power output in spite of a smaller diameter, relative to a 272 µm fiber
Outstandingly suited for the flexible ureterorenoscopy
Double-pedal footswitch
For convenient changeover between two settings, e.g. "Power Fragmentation" and "Popcorning" via the orange or blue pedal
An additional standby function enables the user to activate / deactivate the laser as needed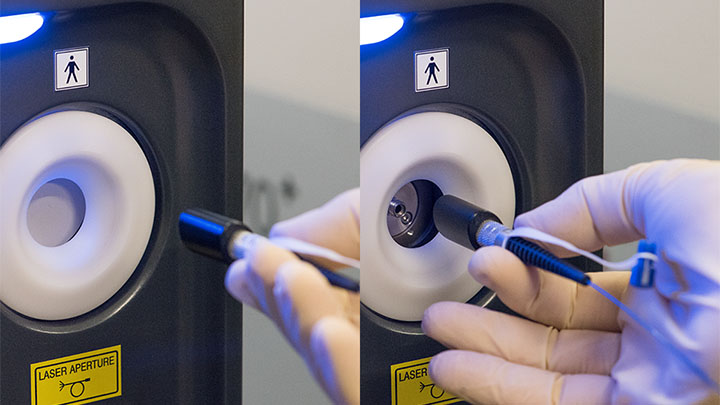 Automatic shutter on the fiber port
Prevents dust from entering the system

Sensor-controlled automatic opening of the shutter enables one-hand operation
12" touch screen display
All functions can be operated intuitively and all important information is present at a glance
The touch screen display can be folded in to the protect the user interface
Blast shield for extra protection
Filter between the fiber coupling and laser rod
Prevents contamination and it can be easily replaced
Complete in BPH therapy
The Richard Wolf complete package for enucleation of the prostate gland includes:
LITHOTRIPSY mode
Due to its high frequency and energy, the new MegaPulse 70+ laser can be used for quick and effective treatment of stones, thus providing a high speed system for lithotripsy.
EXPERT mode
In EXPERT mode the experienced user has the option to adapt the settings to meet individual requirements.
SOFT TISSUE mode
In SOFT TISSUE mode, for example, through optimal adjustment of frequency and energy, holmium laser enucleation of the prostate (HoLEP), can be performed in an outstanding manner with "only" 70 W and the best results can be achieved.
Technical data
| | |
| --- | --- |
| Laser type | Holmium:YAG laser |
| Power | 70 watts |
| Wavelength | 2100 nm |
| Voltage | 200 - 230 V, 50/60 hertz, <32 A |
| Pulse energy | 0.2 - 5 joules |
| Frequency | 3 - 60 hertz |
| Dimensions | 595 x 1200 x 1074 mm |
| Weight | 200 kg |
| | |
Subject to modifications. Please note that some products may not be available in all countries. Please always take note of the information that is provided with the product. For more detailed information, please consult with your contact partner or directly with Richard Wolf GmbH.
Other products you may be interested in