PANOVIEW ULTRA
Bright. Clear. Natural.
Richard Wolf is taking the quality of laparoscopic images to a whole new level with its new PANOVIEW ULTRA telescope generation. The improved depth of focus and light intensity of the new laparoscopic telescopes boast convincingly natural colors and a contemporary ultra HD quality.
The advantages of the PANOVIEW ULTRA telescopes at a glance:
Optimized for high-resolution image quality: consistent sharpness up to the edge
Highly luminous high-tech fiber optics: improved brightness and natural colors
Compatible with the existing system: same light cable as for the 10 mm telescopes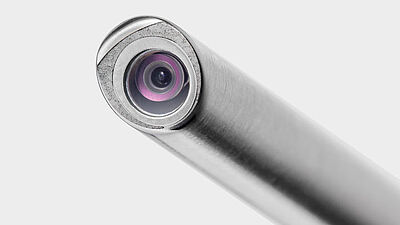 Bright: new fiber optics optimize illumination
High-tech fiber optics are used in the new PANOVIEW-ULTRA telescopes in order to illuminate the camera's visual field during the laparoscopy to the best possible effect. Thanks to the larger aperture, they can absorb more light from the outset. The minimal dispersion guarantees more light emission at the proximal end of the fiber. The innovative fiber optics offer other advantages too: their chemical stability makes them highly resistant to aging. They exhibit hardly any transmission loss, even after 500 autoclave cycles. In addition, they are produced without any lead or arsenic and so are particularly eco-friendly.
Clear: high-resolution up to the edge
PANOVIEW-ULTRA telescopes have been optimized for high-resolution images (Ultra HD and/or 4K). They are highly luminous and boast improved edge sharpness and optimized sharpness profile across the entire endoscopic image. The high-quality lenses from ED glass (Extra Low Dispersion Glass) minimize image defects and thereby guarantee a clear monitor rendition.
Natural: unadulterated colors
The high-tech glass fibers used minimize color shift. The result is a natural white light impression and the tissue appears in the visual field of the new PANOVIEW ULTRA telescopes in unadulterated colors.
Compatible and intuitive: the handling
The compact PANOVIEW ULTRA telescopes are compatible with existing systems. They match the light cable that is standard on the 10 mm telescopes. Intuitive handling with color markings to show which telescopes can be connected to which light cable.
Subject to modifications. Please note that some products may not be available in all countries. Please always take note of the information that is provided with the product. For more detailed information, please consult with your contact partner or directly with Richard Wolf GmbH.
Other products you may be interested in