System blue
become more visible
Photodynamic diagnostics as a surgical technique in endourology for the early detection of non-muscle invasive bladder carcinoma (NMIBC) has been in widespread use for many years in order to reduce the risk of progression and relapses in NMIBC.
In developing System blue, a refined PDD system that has been thought out down to the finest detail, Richard Wolf is setting a new benchmark in the detection of bladder carcinoma with Hexvix®. System components optimally harmonized with the photo sensitizer achieve a significantly improved tumor fluorescence and can therefore increase the detection rate.
A comparison between absorption spectra xenon technology and ENDOLIGHT LED blue shows that the emission band of the ENDOLIGHT LED blue LED light source is optimally harmonized with the primary absorption band of Hexvix® (PPIX). The result is a much stronger tumor fluorescence.
The platform and its components
ENDOCAM Logic 4K Camera Controller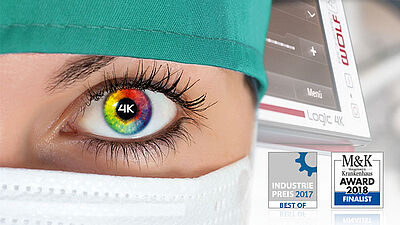 Brilliant 4K resolution with either 3840 x 2160 pixels or 4096 x 2160 pixels
Compatible with all application parts and camera heads of ENDOCAM Logic HD
"Special Imaging Modes" (SIM) included for differentiated visualization
Extremely easy to use thanks to the pre-programming of clinically-devised presets for various disciplines
Your own settings can be saved without any effort at all
High-resolution images and videos saved on USB storage media
Compatible with core nova integration
PENDUAL blue HD Camera Head
Camera head with intuitive flexibility between 0° and 90°
1080 P Full-HD sensor resolution
Also suitable for use in white light endoscopy
ENDOLIGHT LED blue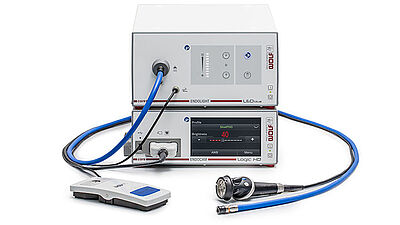 LED-based PDD light source
Constant illumination throughout the service life
Maximum color contrast for ideal differentiation of the tumorous tissue
Also suitable for use in white light endoscopy
PANOVIEW blue Telescopes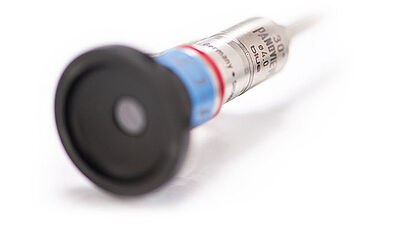 Telescope for a brilliant and bright image
Improved transmission through new fiber design
Also suitable for use in white light endoscopy
Special blue Fiber Light Cable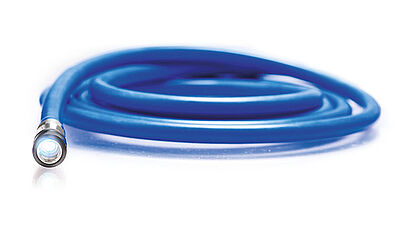 Autoclavable, highly-flexible light cable - unique for fluorescence applications
Optimized fiber design for improved transmission
Also suitable for use in white light endoscopy
PDD with System blue step-by-step
Shahrokh F. Shariat, M.D
Professor and Chairman Department of Urology and Comprehensive and Cancer Center Medical University of Vienna, Vienna General Hospital
"From my own experience, I can report that successful treatment results can be increased with every improvement in image quality and hence better detectability of the tumorous tissue. Ultimately, this is a clear plus for the patient."
Dr. med. Michael Straub
Management of Endourologie and urinary Department of Urology Klinikum rechts der Isar Unisversity of Technology Munich
"Thanks to the HD image, tumors can be easily differentiated even in white light mode – the different bluePDD modes also permit excellent differentiation and high contrasting. In short, this is a huge improvement over what we have known before."
Dr. med. Gerson Lüdecke
Managing Senior Physician, Managing of Urooncology Medical Tumor Therapy Section, Hospital & Clinical of Uroligy and Andrology Giessen
"The great thing about System blue is the strong image illumination: this allows me to work constantly in PDD mode without having to change the optical system, and achieve a complete resection of all tumors with a high degree of clinical safety."
Subject to modifications. Please note that some products may not be available in all countries. Please always take note of the information that is provided with the product. For more detailed information, please consult with your contact partner or directly with Richard Wolf GmbH.
Other products you may be interested in