Richard Wolf and E. Tamussino are honored for their donation to the Santa Casa de Misericordia Hospital in Sao Paulo, Brazil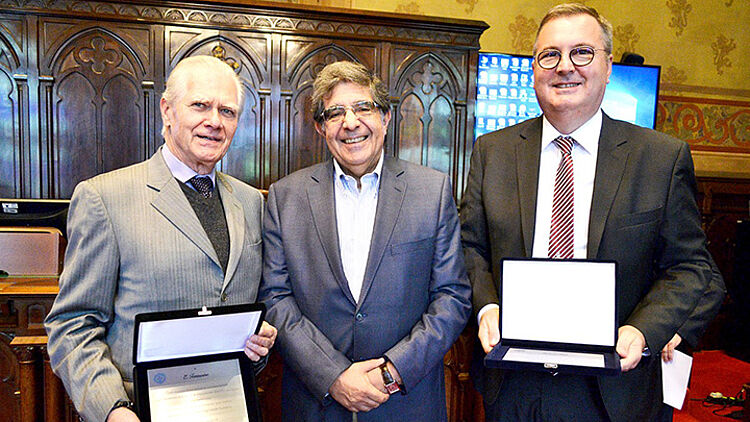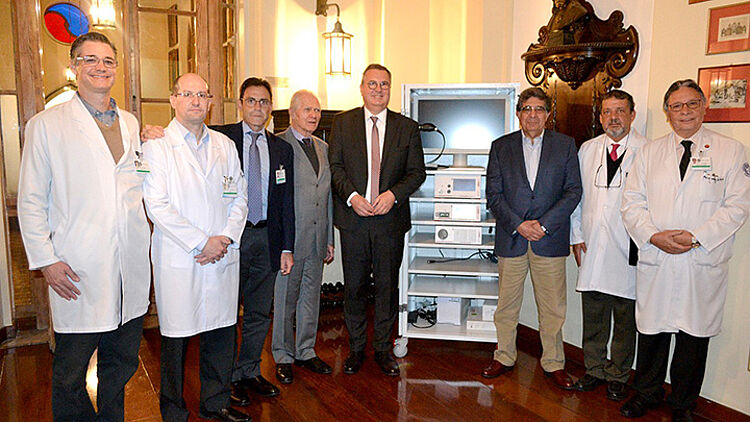 (Knittlingen, October 28, 2019) On August 28, 2019, a ceremony was held in honor of medical technology company Richard Wolf and its Brazilian distributor E. Tamussino to celebrate their joint donation of medical equipment to the Santa Casa de Misericordia Hospital in Sao Paulo. The two companies have gifted three fully equipped endoscopic video carts and two urethroscopes to the hospital.
Handing over the badge of honor at the ceremony, the hospital's Chief Executive Antonio Penteado Mendonça highlighted the importance of the donation. "A donation of medical equipment like this is so important in enabling us to offer our patients the best possible care."
"We want the Santa Casa Clinic to become a reference center in Brazil. The valuable social work that is being done is exactly what we are aiming to support in making our donation," explained Jürgen Steinbeck, Managing Director at Richard Wolf. E. Tamussino President Ekkehart Tamussino also feels honored to be able to help the institution. "I'm delighted to be able to make this donation and I hope that we can continue to work together in the future."
According to Surgical Director Dr. Rodrigo Altenfelder, the equipment is already in use in diagnostics and treatment at the clinic. "Because endoscopic surgery is less aggressive, its benefits are clear to see. As a result of this type of treatment, patients are able to enjoy a better quality of life after surgery and can resume their family and working lives sooner than would be possible otherwise," Dr. Rodrigo Altenfelder told us.
Principal Surgical Consultant and Coordinator of the Abdominal Surgery Unit Dr. Sérgio Roll underlined the importance of the equipment, which will enable him to deliver numerous training courses. "We will now be able to deliver teaching to trainee physicians as well as introduce faculty students to new technologies. Not only that, we can also offer patients the very latest and very best surgical techniques," added Dr. Sérgio Roll.
Richard Wolf GmbH is a medium-sized medical technology company with over 1,500 employees, along with sixteen subsidiaries and 130 foreign agencies worldwide. The company develops, produces, and distributes numerous products for endoscopy and extracorporeal shock wave treatment in human medicine. Integrated operating theater systems round out the product range.
Press contact:
Richard Wolf GmbH
Press Office
Pforzheimer Straße 32
75438 Knittlingen, Germany

Tel. +49 7043 35-1102
presse@richard-wolf.com
www.richard-wolf.com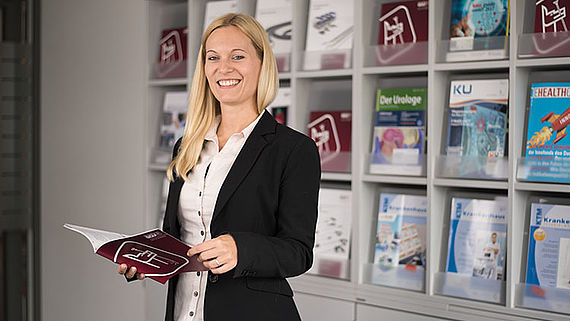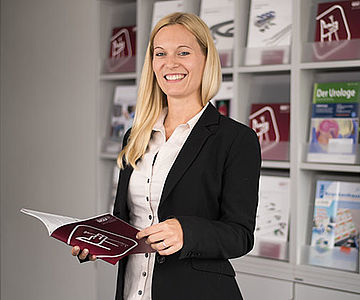 Questions?
We are ready to help!
Beatrice da Silva
Press & Public Relations