Sterilization basket system
The universal solution
The universal sterilization basket system from Richard Wolf safely holds and protects valuable instruments while sterilization, storage, and transportation.
This exemplary system combines functionality with flexibility and safety. The standard sizes of the basket system can be fitted with sterile packaging or can also be sterilized in sterilization containers, such as those provided by Martin, Aesculap, or Wagner, for example.
The patented double frame prevents the basket mesh from becoming frayed and hence causing injury to the user or damage to the sterilization packaging. This double frame therefore ensures maximum safety and a long service life, while also providing minimum contact surface because of the special design of the silicone holders. Top-heavy instruments are securely fixed with an open and a closed silicone holder. In addition, silicone stop plates can also prevent instruments with very small diameters from slipping inadvertently. The set can be configured in almost any arrangement thanks to the silicone holders which are easy to exchange.
The advantages at a glance
Minimum contact surface – the steam has unlimited contact to all surfaces
Flexible holders for customized set configurations
Extensive accessories
Stackable
Increased safety during sterilization, storage, and transport
Functionality, flexibility, and safety
Technical data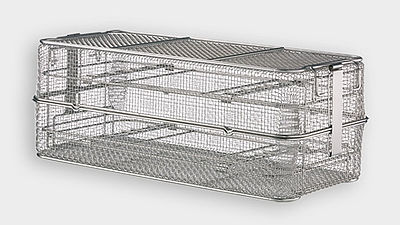 Instrument basket, high – standard
Dimensions (L x W x H): 530 x 250 x 200 mm
Comprising:
Basket lower part
Basket lid, high
Spring lock 2x
Instrument rack, high
Instrument rack, low
Support bar 4x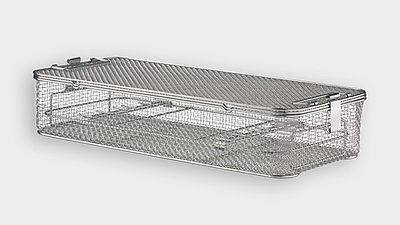 Instrument basket, low – standard
Dimensions (L x W x H): 530 x 250 x 108 mm
Comprising:
Basket lower part
Basket lid, flat
Spring lock 2x
Instrument rack, low
Support bar 2x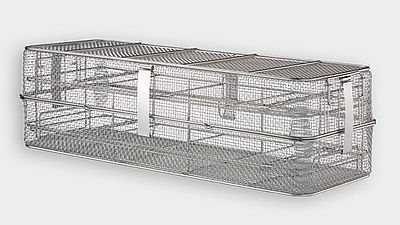 Instrument Basket, high – long
Dimensions (L x W x H): 725 x 275 x 200 mm
Comprising:
Basket lower part
Basket lid, high
Spring lock 4x
Instrument rack, high
Instrument rack, low
Support bar 4x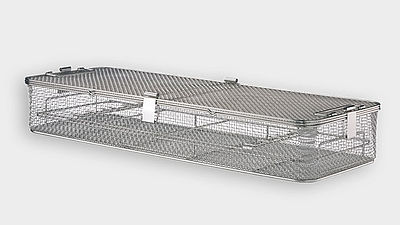 Instrument basket, low – long
Dimensions (L x W x H): 725 x 275 x 108 mm
Comprising
Basket lower part
Basket lid, flat
Spring lock 4x
Instrument rack, low
Support bar 2x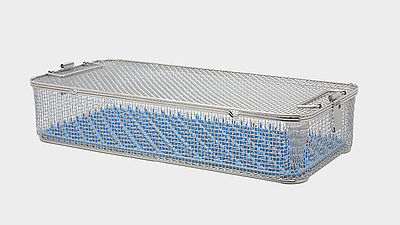 Universal instrument basket, low
Dimensions (L x W x H): 530 x 250 x 108 mm
Comprising:
Basket lower part

Basket lid, flat

Spring lock 2x

Silicone mat "Large Diamond"
Accessories
Support bar for silicone holders, double
Silicone holder, closed, triple, for instruments from ø 8 mm – 14.5 mm
Silicone holder, open, triple, for instruments from ø 8 mm – 14.5 mm
Silicone holder, closed, for up to 5 items, for instruments from ø 1 mm – 7.5 mm
Silicone holder, open, for up to 5 items, for instruments from ø 1 mm – 7.5 mm
Silicone holder, closed, for up to 7 items, for instruments from ø 1 mm – 7.5 mm
Silicone holder, open, for up to 7 items, for instruments from ø 1 mm – 7.5 mm
Silicone stop plate for ensuring the axial position of instruments with small diameters
Starter Set of silicone holders for urology / arthroscopy, consisting of: 3x 8584.9501, 3x 8584.9511, 1x 8584.9701, 1x 8584.9711
Starter Set of silicone holders for laparoscopy / surgery / gynecology, consisting of: 3x 8584.9501, 3x 8584.9511, 1x 8584.9201, 1x 8584.9211
System small part basket 1/8, dimensions (L x W x H): 121 x 121 x 35 mm
Locking pin, e.g., for handles, pack size = 2 pcs
Set of fixation brackets, consisting of: O-ring set, 2x angle bracket, 1x Allen wrench
O-ring set (replacement part), consisting of: 1x O-ring 90 x 3 mm, 1x O-ring 116 x 3 mm
Silicone mat "Large Diamond"
Other products you may be interested in