Maintenance-free two-way stopcocks
A vision becomes reality
As a leading provider of equipment for minimally invasive surgery, Richard Wolf offers users the first completely maintenance-free two-way stopcock, which convinces not only by its functionality but in particular by its easy disassembly and assembly.
Oils and lubricants greatly complicate the sterilization of instruments and should therefore only be used if no other alternatives are available, for example in the joints of forceps and scissors.
Richard Wolf has taken this opportunity to develop the proven and well-established maintenance-free stopcock concept applied to standard stopcocks further by transferring this to the two-way stopcocks. This stopcock design also enables the user to sterilize instruments when they are already assembled. This not only saves time in reprocessing and surgery, but also improves safety.
The advantages at a glance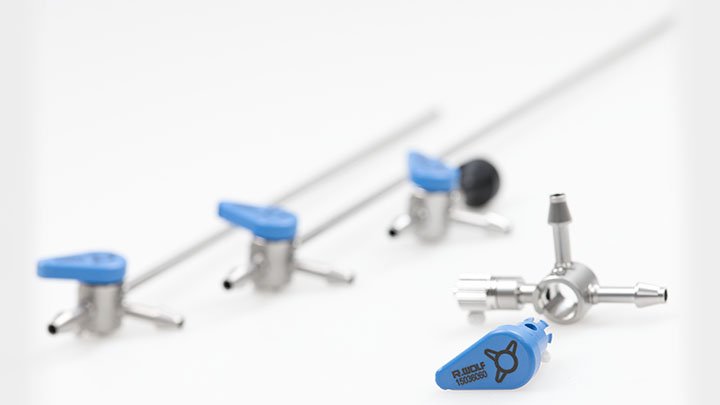 Simple disassembly and assembly
No lubricants and oils required - completely maintenance-free
Unrestricted automated processability
Sterilization with all common procedures and in assembled condition!
Technical Data
| | |
| --- | --- |
| Designation | Product number |
| Two-way stopcock, maintenance: freeCapacity 4 mm, with Luer Lock connector, reusable | 88351 |
| Two-way stopcock, maintenance-free: Capacity 3 mm, with Luer Lock connector, reusable | 88350 |
| Suction and irrigation tube, rigid, WL 290 mm, with maintenance-free two-way stopcock, sheath tube, with distal openings, reusable | 8583732 |
| Suction and irrigation tube, rigid, WL 410 mm, with maintenance-free two-way stopcock, sheath tube, with distal openings, reusable | 8584732 |
| Suction and irrigation tube Adapter, with maintenance-free two-way stopcock, for multi-functional suction and irrigation tube system, reusable | 8583819 |
Other products you may be interested in