PiezoWave
Shockwave therapy focused and planar
The PiezoWave combines orthopedic ESWT applications with the applications of TPST (trigger point shockwave therapy) and thus offers a significant expansion of the range of applications for myofascial pain syndromes. The extracorporeal, focused shockwave enables precise diagnosis and therapy of active and latent trigger points.
Compact and mobile – the functional treatment unit for adaptation of two different therapy sources.
Therapy source F 10 G4 for all standard indications in orthopedic ESWT and TPST
Focused, precise, variable penetration depth via 8 different gel pads
Large-area energy coupling with an aperture angle of 94° – reduces the pain reaction on the skin surface
Planar therapy source FP4 - for the treatment of large-area, near-surface, myofascial syndromes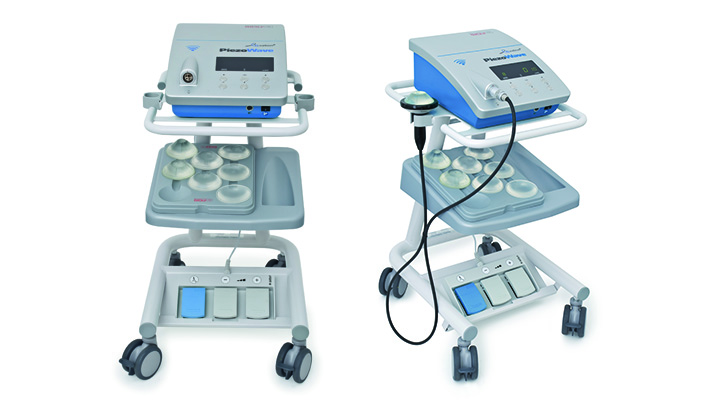 Indications
Tennis elbow/golfer's elbow
Calcified shoulder
Trigger point therapy
Near-surface pseudarthrosis
Trochanteric pain syndrome
Patella tip syndrome
Medial tibial stress syndrome
Bursitis or tendinitis on the hip bone
Plantar fasciitis
Tendinopathies of the Achilles tendon
Operating concept
Three therapy sources to choose from: point-focused, focused and planar
Gel pads in different penetration depths for the point-focused, focused and linear focused therapy source
Planar therapy source with 5 mm penetration depth
Plug & play – detection of therapy sources
Low-pain coupling through "direct focusing" technology
Therapy sources
The core of the PiezoWave is the compact piezo shockwave source, which has excellent performance characteristics. Easy operability. All-important device parameters can be dosed and monitored. With the therapy source, the penetration depth can be varied with outstanding precision by swapping out gel pads of different heights. Another advantage is the large-area energy coupling with a wide aperture angle. This reduces the energy density on the skin surface and considerably reduces the pain response. Treatment without sedation is carried out with fine energy dosage by means of 20 levels of intensity.
Subject to modifications. Please note that some products may not be available in all countries. Please always take note of the information that is provided with the product. For more detailed information, please consult with your contact partner or directly with Richard Wolf GmbH.
Other products you may be interested in
ELvation Medical GmbH
ELvation Medical GmbH, as the exclusive authorized ESWL/ESWT Sales & Service Team of Richard Wolf GmbH, supports you in the procurement and service of your piezo shockwave system.