BioactIF OSTEOTRANS
Redefine biodegradation!
BioactIF OSTEOTRANS is the name for the new generation of bioactive and bioresorbable interference screws from Richard Wolf. The unique Osteotrans composite material made of Poly-L-Lactide (PLLA) and unsintered Hydroxylapatite (uHA) demonstrates an osteoconductive effect in bones. Trabecular structures grow into the surface of the implant from the surrounding bone within a short time frame.
The distribution of uHA particles generated uniformly by a special manufacturing process also creates a permanent buffer of the lactic acid produced in the course of degradation of the PLLA components and hence prevents inflammatory reactions in bones and tissue, as well as encapsulation of the implant.
The mechanical characteristics generated in the course of the special manufacturing method for the material are comparable with the properties of the surrounding bone. The transfer of forces from the surrounding bone to the implant is thereby ensured. This is a key prerequisite for activating the osteoblasts. Complete bone reconstruction can hence be achieved for this area. The implant can easily be seen in X-ray visualization.
Our screw series at a glance
BK-series
The new, universal BK-series has a distally more aggressive thread shape and therefore exhibits exceptional incision behavior and optimal screwing characteristics.
The expanded range of sizes now offers an implant of optimum length and diameter to suit any tibial and femoral fixation requirements for the reconstruction of front and rear cruciate ligaments. In addition, the 6 mm version can also be used for other ligament replacements, including MPFL reconstructions.
Distally more aggressive thread
Distally conical shape
Expanded size range
OK-series
The OK-series is particularly suitable for the fixation of BT and BTB transplants, during both initial treatment and revision operations. Due to the blunt thread, designed to protect the transplant, we recommend the use of a thread cutter.
Transplant-protecting thread
Ideal solution for BT and BTB transplants
Extensive range
Direct connection with the bone, osteoconductive effective
Optimum physiological properties thanks to composite material made of Poly-L-Lactide (PLLA) and unsintered Hydroxylapatite (uHA)
Acid buffering to prevent rejection reactions
No osteolysis
Long-term bioresorption
Bone formation through remodeling process
Bioactive and bioresorbable interference screws
Osteoconductivity & osteobinding
Bone grows into the surface of the implant
Physiological environment by buffering the acid pH value of the accumulated lactic acid by uHA particles
No encapsulation
Biodegradation & bioresorption
Hydrolysis (PLLA) & osteoclasts (HA)
Homogenous degradation of PLLA particles thanks to semi-crystalline structure
Osteoclastic degradation of uHA particles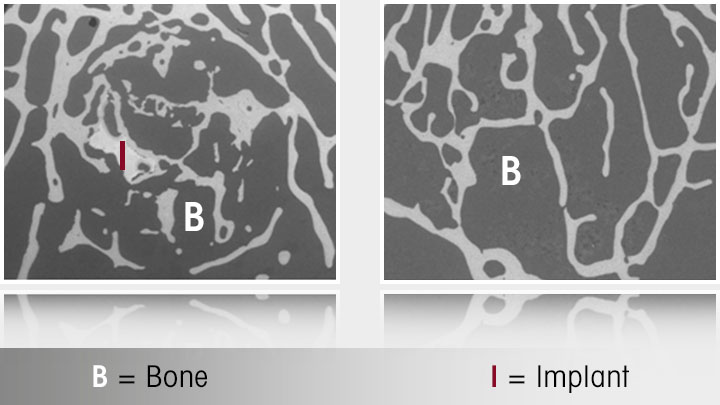 Implant has similar mechanical properties to the surrounding bone
Force transfer
Load
Bone growth
Technical data
| | | | | |
| --- | --- | --- | --- | --- |
| Application | Item no. | Diameter | Length | Screwdriver |
| Knee | OK0725A | 25 | 7 | 891800030 |
| Knee | OK0730A | 30 | 7 | 891800030 |
| Knee | OK0825 | 25 | 8 | 891800030 |
| Knee | OK0830 | 30 | 8 | 891800030 |
| Knee | OK0925 | 25 | 9 | 891800030 |
| Knee | OK0930 | 30 | 9 | 891800030 |
| | | | | |
| | | | | |
| --- | --- | --- | --- | --- |
| Application | Item no. | Diameter | Length | Screwdriver |
| Knee | BK0620 | 20 | 6 | 891800020 |
| Knee | BK0720 | 20 | 7 | 891800030 |
| Knee | BK0725 | 25 | 7 | 891800030 |
| Knee | BK0730 | 30 | 7 | 891800030 |
| Knee | BK0820 | 20 | 8 | 891800030 |
| Knee | BK0825 | 25 | 8 | 891800030 |
| Knee | BK0830 | 30 | 8 | 891800030 |
| Knee | BK0920 | 20 | 9 | 891800030 |
| Knee | BK0925 | 25 | 9 | 891800030 |
| Knee | BK0930 | 30 | 9 | 891800030 |
| Knee | BK1025 | 25 | 10 | 891800030 |
| Knee | BK1030 | 30 | 10 | 891800030 |
| | | | | |
| --- | --- | --- | --- | --- |
| Application | Item no. | Diameter | Length | Screwdriver |
| Small joint | RK0412 | 12 | 4 | 891800010 |
| Small joint | RK0415 | 15 | 4 | 891800010 |
| Small joint | RK0512 | 12 | 5 | 891800020 |
| Small joint | RK0515 | 15 | 5 | 891800020 |
| Small joint | RK0612 | 12 | 6 | 891800020 |
| Small joint | RK0615 | 15 | 6 | 891800020 |
| Knee | RK0520 | 20 | 5 | 891800020 |
| Knee | RK0620 | 20 | 6 | 891800020 |
| Knee | RK0720 | 20 | 7 | 891800030 |
| Knee | RK0725 | 25 | 7 | 891800030 |
| Knee | RK0730 | 30 | 7 | 891800040 |
| Knee | RK0820 | 20 | 8 | 891800030 |
| Knee | RK0825 | 25 | 8 | 891800030 |
| Knee | RK0830 | 30 | 8 | 891800040 |
| Knee | RK0920 | 20 | 9 | 891800030 |
| Knee | RK0925 | 25 | 9 | 891800030 |
| Knee | RK0930 | 30 | 9 | 891800040 |
| Knee | RK1025 | 25 | 10 | 891800030 |
| Knee | RK1030 | 30 | 10 | 891800040 |
Other products you may be interested in